YAMDP-1800 14 head sintered stone arc beveled polishing machine, is China Yongtao machinery according to the market demand and the production of a sintered stone processing machinery. The first step, using 3 axis water jet cutting machine cut a arc shape and then get the machine on the edge grinding. Put the slab into the belt, and the lower hypotenuse of the arc is processed through the front two motors, because the cut slab is with the arc. Two motors with the radian of the slab automatically induction in and out of the grinding, the back five motors used for polishing. The second half of this machine is for machining flat edge polishing and upper and lower small bevels.The maximum processing size is 1.8m. The front 7 motors are divided into 2 molding and 5 polishing. Can process straight line hypotenuse, arc hypotenuse. This machine is specifically designed for sintered stone table tops. Batch processing table tops, Yongtao machinery sintered stone arc bevel polishing machine is a good choice. Fast speed, good processing effect, good mechanical stability, simple operation. But it must be used with a water jet cutting machine. This kind of machine has been accepted and used by a large number of customers in China, and is highly praised by the majority of customers. The key is to greatly save the labor, improve the processing output, so that customers really earn money.
Sintered stone flat beveled polishing machine: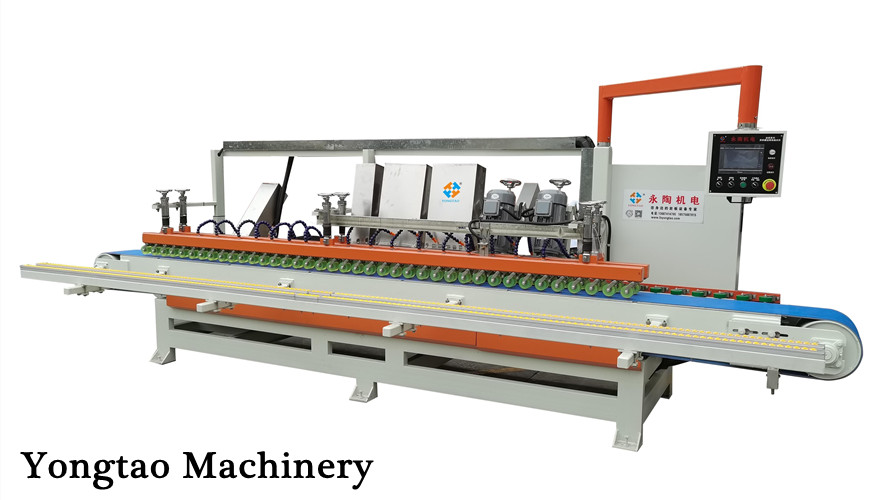 Characteristics of sintered stone arc beveled polishing machine:
1, forming part using high power motor grinding, processing speed is fast;
2, polishing part adopt small power motor, electricity saving, polishing for pneumatic structure, automatic downward pressing polishing, polishing effect is good;
3. The polishing mill adopts water mill material, and the polishing brightness is very good.
4, polishing grinding disc and snail knob grinding head chuck connection, convenient replacement of grinding disc and chuck;
5. The supporting brick adopts plastic roller, and the plate will be more flexible when grinding forward, and will not be stuck;
6, plate even different sizes and specifications can be put into processing at the same time, more flexibility;
7. The pressing wheel is made of green polyurethane material, which can be used longer and more durable.
8, the control box adopts a fixed electric cabinet, a rocker electric cabinet, rocker electric cabinet operation is more convenient;
9, Transmission motor adopts frequency conversion speed regulation, processing speed stability is better, processing quality is better;
10.Stainless steel water cover is used for each fixed motor to prevent sewage from entering the motor in the process of processing, which can effectively avoid water and burn out the motor.
Sintered stone edge polisher Mechanical functions:
1, processing straight edge polishing
2, processing flat side of the lower hypotenuse polishing
3, processing arc straight edge polishing
4, processing arc under the hypotenuse polishing
5, the processing of upper and lower safety small hypotenuse
Sintered stone edge polishing machine Parameter:
| | | |
| --- | --- | --- |
| No | Name | Parameter |
| 1 | Dia. Of grinding wheels | Ø150*60mm |
| 2 | Dia. Of polishing pad | Ø125*20mm |
| 3 | Processing width | 600-1800mm |
| 4 | Processing thickness | 6-15mm |
| 5 | Processing speed | 1-2m/min |
| 6 | Size of machine | 5.5m*1.4m*1.8m |
| 7 | Size of transmission rack | 1.6m*0.7m*0.8m |
| 8 | Water consumption | 350L/min |
| 9 | Total power | 25.5kw |
| 10 | Weight | About 4000kg |