YAMDP-1800 type 1+12+2+2 sintered stone straight edge polishing machine is China YongTao machinery according to customer needs for a tailored straight edge polishing machine. This machine uses two rows of supporting wheels ,1 limit structure,1 grinding head rough grinding,12 grinding head polishing straight edge,2 upper chamfer,2 lower chamfer, processing sintered stone side. Mechanical design and processing width of 1800mm, two rows of brick pressing mechanism. Diamond edging wheel is used for rough grinding.The straight edge polishing grinding head is polished by a snail buckle connected with a water grinding plate. The upper and lower chamfering is chamfered and polished by water mill. The biggest highlight of this machine is that there is no baffle, the plate can be large or small, and can be processed in the machine at the same time. Each polishing head can be independently controlled, and the use of pneumatic polishing can effectively increase the brightness of the polishing. This straight-edge polishing machine is mainly used for: straight-edge polishing of sinter stone under the basin.For the use of small processing factories, small occupation of land, strong flexibility, mechanical design and operation is simple, do not need very professional people can quickly learn to boot. Especially the professional processing plant of sintered stone cabinet countertops and bathroom counters, it is very suitable to buy this sintered stone straight-edge polishing machine. It has the advantages of fast processing speed, good processing effect and convenient replacement of grinding head. Whether it is a large processing plant or a small processing plant, it is the first choice for you to buy a straight edge polishing machine.
Sintered stone straight edge polishing machine: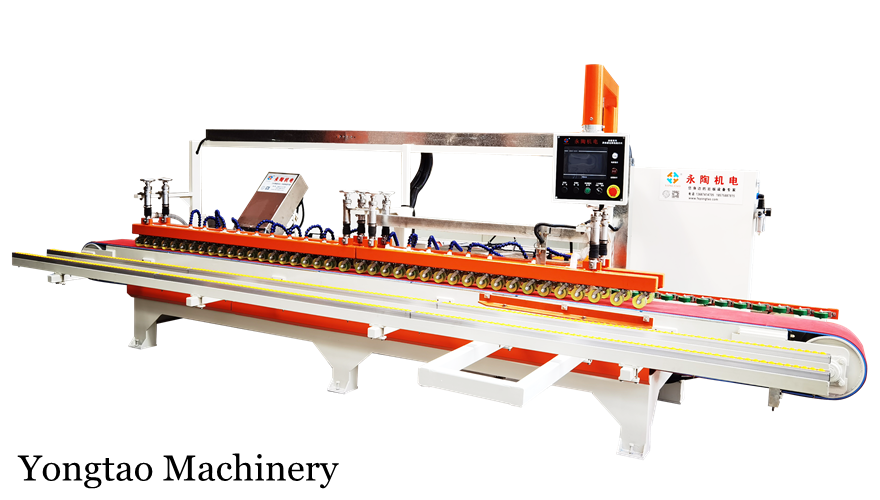 Processing materials: sintered stone, quartz stone, artificial stone and other new building materials
Mechanical function: machining single side straight polishing, up and down small angle chamfer
Polishing mode: pneumatic polishing
Suitable for processing products: sintered stone basin, quartz basin, single-layer board and other suitable products
Sintered stone edge polishing machine Mechanical equipment features:
1. The main drive belt of the machine adopts red soft belt, which can effectively adsorb the plate and avoid the plate shifting;
2. The entrance of the brick adopts a limiting mechanism on the left and right sides, which can make the processed plate aligned without moving;
3. Brick supporting mechanism adopts two roller supporting bricks, the large plate can support the plate, the small plate can be conveniently moved back into the brick from the brick connecting place, convenient manual operation;
4. Brick pressing mechanism adopts two solid pressing beams, and the pressing wheel is made of polyurethane material, which has longer service life.
5, each motor adopts stainless steel water cover, prevent sewage into the motor;
6, polishing grinding head using electric eye control grinding head rise and fall, the use of air pressure polishing, polishing brightness is very beautiful;
7, The electric box adopts rocker electric cabinet control, the operation is more flexible and convenient;
8.The polishing grinding head is connected with snail buckles, and the water grinding plate is polished.
Sintered stone edge poliser Parameters:
| | | |
| --- | --- | --- |
| NO. | Name | Parameter |
| 1 | Nos. Of squaring head | 1pc |
| 2 | Motor power of squaring head | 3kw |
| 3 | Dia. Of diamond wheel | Φ200×60mm |
| 4 | Nos. Of straight polishing heads | 12pcs |
| 5 | Motor power of polishing head | 0.75kwX12 |
| 6 | Nos. Of upper chamfer heads | 2pcs |
| 7 | Nos. Of lower chamfer heads | 2pcs |
| 8 | Motor power of chamfer heads | 0.75kwX4 |
| 9 | Dia. Of polishing heads | Φ125mm |
| 10 | Speed | 0.5-2m/min |
| 11 | Conveyor belt width | 400mm |
| 12 | Processing width | 300-2000mm |
| 13 | Water consumption | About 30cbm |
| 14 | Total power | 17.5kw |
| 15 | Size of machine | 5800mm*2400mm*1900mm |
| 16 | Weight | About 3.5T |