The Yongtao brand of YTQZ-3200 3 axis bridge type CNC sintered stone cutting machine is designed for processing sintered stone. It adopts touch screen CNC control to adjust cutting size. Differ with normal stone cutting machine, it has the advantage of high precision, fast cutting speed, good cutting effect is good, simple operation for processing sintered stone.
The cutting speed is one times faster than normal stone bridge saw. It use high speed motor, large size saw blade, imported precision lead screw, can effectively achieve cutting accuracy, ensure that the cutting size without error. Using infrared sensing, it has good effect on straightness cutting. Using special saw blade for sintered stone cutting, cutting effect than normal stone cutting saw blade. The max cutting size is 3200mm*1800mm, for processing large specifications of sintered stone, this CNC sintered stone cutting machine is your best choice.
CNC Sintered stone cutting machine Processing characteristics:
1, gantry structure design, better stability;
2. The platform adopts soft material as the bottom plate to avoid edge collapse and Angle drop after cutting;
3. The control cabinet adopts rocker arm structure, which makes the operation more flexible and convenient;
4. The outer part of lifting tool head adopts iron sheet spray paint, and there is iron sheet water cover at the installation blade to avoid sewage entering the motor;
5, Front and back moving screw, using imported precision screw, can effectively ensure the cutting precision and durability;
6. Hydraulic cylinder is used to support the lifting of the whole platform, which is convenient for placing and unloading plates;
7. The beam of the cutting machine adopts cast iron structure and is wrapped with dust cover to avoid dust and debris entering the girder and prevent accidents.
8. Infrared induction is set at the cutting place, which can effectively ensure the straightness of cutting;
Processing materials: sintered stone, large size ceramic, ceramic sheet, stone
3 Axis Stone bridge saw: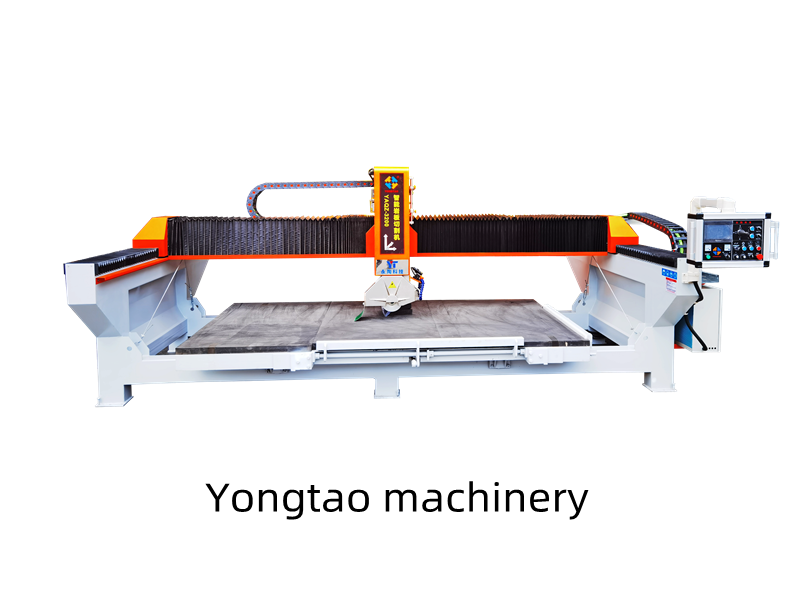 3 Axis Sintered stone bridge saw Parameters:
| | | |
| --- | --- | --- |
| No | Name | Parameter |
| 1 | Max processing size | 3200*1800mm |
| 2 | Motor power | 7.5kw |
| 3 | Drive motor power (X axis) | 1.5kw |
| 4 | Drive motor power (Y axis) | 1.5kw |
| 5 | Speed | 0.25-4.5m/min(stepless speed adjustment) |
| 6 | Cutting head move angle | 0-90 degree |
| 7 | Stop-return place | Any place |
| 8 | Rotation | About 4500r/min |
| 9 | Power | 380V/50HZ( three phase) |
| 10 | Size of saw blade | Φ(300-350)mm*50mm |
| 11 | Total power | 13.5kw |
| 12 | Size of machine | 5m*2.8m*2.2m |
| 13 | weight | About 3000kgs |
| 14 | Water consumption | 150L/min |