YANMP-1300 CNC sintered stone basin hole edge polishing machine is a high-precision basin hole edge polishing machine newly developed and produced by China Yongtao Machinery. The problems of traditional inner hole edge positioning, non-standard edge grinding, low processing efficiency and rough processing edge are solved.This model is based on the cut inner hole as the center, using Japan imported industrial camera and photo function, automatic positioning, simple operation, no need to draw, automatic identification of the width and size of the basin hole, effectively solve the traditional model to plate edge positioning, the inner hole will appear deviation.The grinding adopts high speed motor, and the tool head is divided into coarse grinding, fine grinding and series polishing. The machining efficiency is high, the grinding and polishing can be completed at one time, without the need for the traditional machine to change the grinding wheel frequently, and the processing speed can reach 1 piece in 3 minutes, which is far ahead of the same type of products.
CNC Stone Pot Hole Edge Polishing Machine: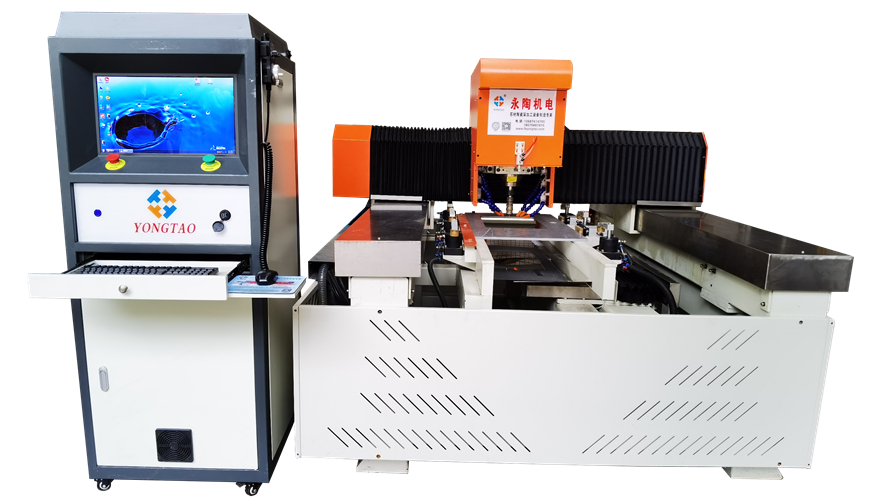 Processing materials: sintered stone, quartz stone, marble
Processing mode: a spindle series 4 grinding wheels, divided into coarse grinding, fine grinding, fine grinding, polishing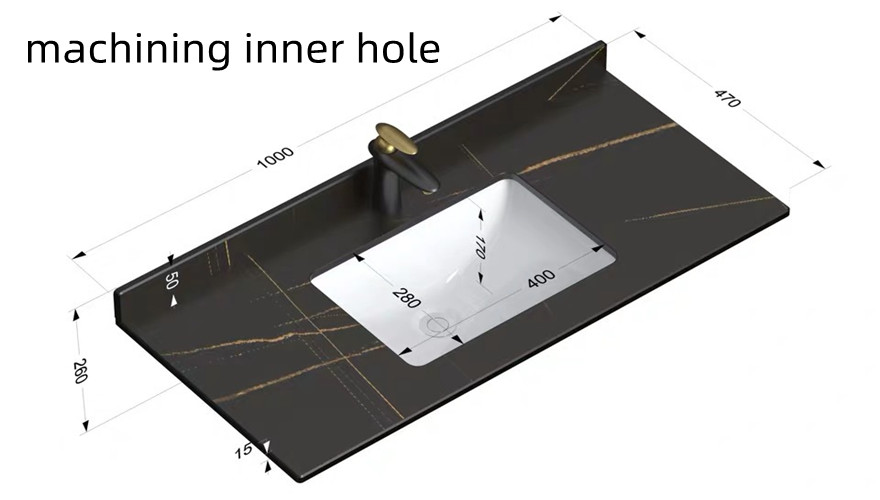 CNC stone machinery Equipment features:
1. 1 machine tool and 1 CNC control cabinet;
2. Material of 4 grinding wheels: 1 diamond grinding wheel, 2 resin grinding wheels and 1 polishing grinding wheel;
3. The equipment adopts 6 pressing plates, 3 on the left and right, and adopts pneumatic pressing bricks;
4, about 2 guide rail adopts imported precision screw, can ensure the processing accuracy;
5. Under the sintered stone mesa plate, a white rubber strip is adopted on the left and right to avoid wear of the plate;
6, series 4 grinding wheels, grinding once, sinking 1 grinding head grinding pin, equipped with 6 water pipes to wash the grinding head and plate edge of sewage and impurities;
7. Take photos first, locate the center of the plate, and grind and polish 4 times according to the size of the plate;
8, this machine design is beautiful, has the advantages of simple operation, processing speed, labor saving, high degree of automation.
CNC Stone Edger Technical parameters:
| | | |
| --- | --- | --- |
| No. | Name | Parameter |
| 1 | Number of grinding head | 1pc |
| 2 | Diameter of grinding wheel | Φ50*22mm |
| 3 | Min. Processing Size of inner hole | 300*300mm |
| 4 | Max. Processing size of inner hole | 450*850mm |
| 5 | Min. Processing size of out hole | 450*450mm |
| 6 | Max. Processing size of out hole | 600*1400mm |
| 7 | Speed | 0.5-2m/min |
| 8 | Processing thickness | 12-20mm |
| 9 | Min. R corner | 20mm |
| 10 | Max. R corner | unlimited |
| 11 | Water consumption | 1.5-2 cbm/h |
| 12 | Total power | 9.8kw |
| 13 | Size of machine | 2600*2200*1700mm |
| 14 | weight | 3000kg |