YAMDP-250 1+8+2+2 Small size sintered stone flat bevel Edge polishing machine is China Yongtao machinery according to the characteristics of sintered stone research and development production of a flat bevelling polishing machine. It can be used for edge polishing of a variety of building materials,up and down pressure belt structure,pneumatic grinding block pressing plate.This kind of structure design,processing effect is better,operation is more convenient. Different thickness specifications,batches of polishing. Minimum machining width is 100mm,maximum machining width is 300mm.The technical requirements of the boot workers are not high, can quickly learn to boot,adjust the machine.This machine has a wide range of applications,can be used in a number of industries,especially for processed products, bulk distribution to stores,this flat bevelled polishing machine is especially suitable for you.This machine in China has been the majority of ceramic factory, stone factory use,has been the customer's consistent love,by the majority of customers. If you also need 1 sintered stone machine,processing flat edge, upper and lower hypotenuse,and is processing small size plate, you can contact us, we will give you a satisfactory result!
Small Size Sintered Stone Flat Bevel Edge Polishing Machine
Processing materials: quartz stone, sintered stone, marble, paving stone, artificial stone
Mechanical function: straight edge polishing, up and down chamfer polishing
Small Size Quartz Stone Flat Bevel Edge Polisher: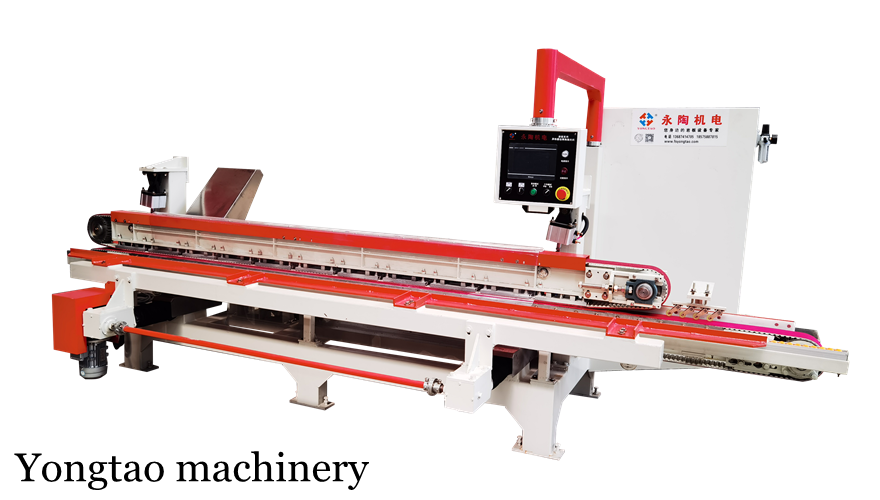 Sintered Stone Edge Polisher Product features:
1, pressure belt structure, to ensure more stable products;
2, pneumatic grinding block automatic compensation, effectively solve the product polishing and missing polishing phenomenon;
3, frequency conversion drive, stronger stability, effectively reduce energy consumption;
4, the same thickness of the product size specifications, arbitrary grinding and polishing, solve the traditional single size size grinding and polishing, reduce the number of machine adjustment, maximize the efficiency of work.
5, rocker arm type electrical box structure design, more convenient operation;
6, straight edge, up and down chamfering motor all adopt stainless steel water cover, avoid sewage into the motor, prevent burning motor;
7, straight edge, up and down chamfer grinding head, all using water grinding piece polishing, polishing effect is better, polishing brightness is better;
8, block brick parts using electric gauge, in and out more flexible, convenient, controllable;
9, the polishing adopts air pressure structure, can avoid water grinding wear can still be polished, avoid leakage, there is air pressure, polishing effect will be better;
10.At the entrance of mechanical brick, there are two white rubber strips on both sides. This structural design can avoid scratches on the plate.
Sintered Stone Edge Polishing Machine Technical parameters:
| | | |
| --- | --- | --- |
| No. | Name | Parameter |
| 1 | Squaring head | 1pc |
| 2 | Motor power of squaring head | 3kw |
| 3 | Diameter of squaring wheel | Φ200 |
| 4 | Numbers of flat edge polishing head | 8pcs |
| 5 | Motor power of polishing head | 0.75kw*8 |
| 6 | Chamfer head on the top | 2pcs |
| 7 | Motor power of chamfer head | 0.75kw |
| 8 | Chamfer head on the bottom | 2pcs |
| 9 | Motor power of chamfer head | 0.75kw |
| 10 | Motor power of baffle | 0.75kw |
| 11 | Conveyor motor power | 3kw |
| 12 | Processing width | 100-300mm |
| 13 | Processing thickness | 6-20mm |
| 14 | Speed | 0-2m/min |
| 15 | Water Consumption | 350L/min |
| 16 | Total power | 15.75kw |
| 17 | Size of machine | 4560*2000*1450mm |
| 18 | Weight | About 3000kg |