YAMDK-3200 Sintered Stone 45 Degree Polishing Machine
YAMDK-3200 Sintered stone 45 degree polishing machine is a 45 degree chamfering polishing machine developed by Yongtao Machinery according to the material characteristics of sintered stone. It can be used for splicing a variety of materials at 45 degrees. The finished 45 degrees can achieve seamless splicing, with perfect splicing effect. In front, the cut size is placed above the 45 degree polishing machine belt, which is automatically passed into the machine for processing. There are seven grinding heads, each with a different function. Before the plate is put into the machine, adjust the machine first. When the plate enters, the belt automatically presses down. The same thickness of the plate to put the processing. Different thickness of the plate, need to separate several processing, to avoid some problems such as card machine. This machine has a conventional design with a maximum machining width of 1.8 meters, and can also be customized with a machining width of 3.2 meters according to customer requirements. The wider the processing size, the wider the support frame should be done outside. And need to run synchronously can, support the belt on the shelf for a small white belt. To do 45 degree processing, this 45 degree polishing machine for sintered stone is one of the machines you have to buy. Because it has been verified by the majority of customers, the processing effect is really very good, you do 45 degree processing is indispensable for a sintered stone processing machinery.

Quartz stone 45 degree chamfering machine: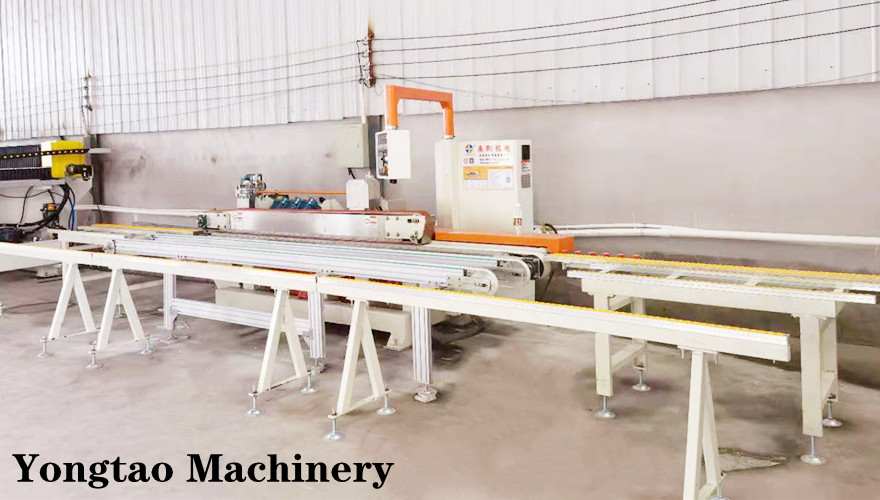 Mechanical features: 45 degree chamfer polishing, bevel slotting
Processing materials: marble, stone, artificial stone, quartz stone, sintered stone and other materials

Layout of each motor in the machine (in order) :
1、chamfer, 2、45 degree cutting, 3、45 degree rough grinding, 4、straight edge, 5-6、45 degree fine grinding, 7、45 degree edge slotting

Sintered stone 45 degree chamfering machine Features:
1, 45 degrees cutting machine adopts special motor, big blade cutting using the Ø 300;
2. Adopt two upper and lower pressure beams and two belts;
3. Rocker arm electric box structure, easy to operate;
4. The support frame is made of aluminum alloy to prevent rust and provide better stability;
5. One 45-degree cutting, one 45-degree rough grinding and two 45-degree fine grinding are adopted to achieve better processing effect of 45-degree edge;
6. The belt on the support frame adopts small belt to run synchronously for convenient replacement and high cost performance;
7. The two pressure beams adopt electric lifting, stainless steel shell design, durable;
8, 45 degrees of rough grinding, fine grinding pin depth, can be adjusted according to the data, the accuracy is better;
9. Waterproof cover is designed for each motor part to avoid motor water;
10. The transmission motor adopts upper and lower double frequency conversion structure design for better stability;
11. The last motor is designed to be slotted in the middle of the 45 degree side, which is convenient for gluing and more solid bonding.
12, 45 degree polishing machine into and out of the brick position, front and rear are equipped with a shelf, easy to put the plate and plate.

Sintered stone 45 degree polishing machine Parameter:

| | | |
| --- | --- | --- |
| No | Name | Parameter |
| 1 | Cutting motor power | 7.5kw |
| 2 | Dia. Of blade | ø 300*50mm |
| 3 | Chamfer motor | 3kw |
| 4 | Dia. Of chamfer wheel | ø 150*60mm |
| 5 | Squaring motor | 3kw |
| 6 | Squaring wheel | ø 150*60mm |
| 7 | 45 degree chamfer motor | 4kw |
| 8 | Nos. of 45 degree chamfer | 3pcs |
| 9 | Dia. Of groove disc | ø 150*60mm |
| 10 | Groove motor | 3kw |
| 11 | Width of conveyor belt | 100mm |
| 12 | Dia. Of water inlet | 50mm |
| 13 | Processing width | 3200mm |
| 14 | Processing thickness | 3-20mm |
| 15 | Processing speed | 0.5-2m |
| 16 | Min. processing width | 40-50mm |
| 17 | Total power | 36kw |
| 18 | Size of machine | 4.3m*(1.3-2.2m)*1.85m |
| 19 | Size of frame | 1.9m*0.6m*0.8m |
| 20 | Weight | About 3000kg |