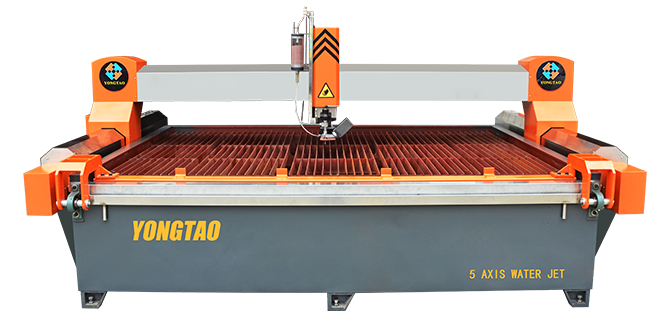 Leading-edge
water jets: Cutting stone
and other materials more accurately
Not all materials can be processed using welding or high-temperature techniques. Stone is one of them, meaning that it calls for other machines to cut it without compromising its qualities. Fortunately, Yongtao can simplify the procedure and bring the highest level of precision to you. As a waterjet stone manufacturer, we're here to help you with all things cutting and shaping of marble, granite, quartz, and other rock types. Whether you're involved in countertop production or the tile flooring industry, Yongtao's water jet stone cutting machine is your #1 choice for zero-defect processing.
Our water jet stone-cutting machines use high pressure and abrasive materials projected onto the surface through orifices. Directed in this way with adjustable angles, they allow for better shaping and motion control. When mixed with sand, a jet of water travels at breakneck speed and perfectly cuts everything from rock and metal to plastic and wood. The color and natural look of the materials being processed are preserved.
The features that stand behind Yongtao's
water jet stone cutting machine
Choosing the right machinery for your specific applications is crucial. You don't want it to mess your products up by applying too much pressure or due to a slight misadjustment. Neither do we.
That is why we integrate the latest technologies into our water jet stone cutting machine to cut stone, granite, rock plate or marble flawlessly. Available in AB and AC configuration options, our machines come with:
- 5 axes for multi-level 3D cutting
- wide range of angles to eliminate cracks and edge chipping
- CAD software for more accurate shaping, cutting, etc.
- proven performance and stability characteristics
You will also find it easy to maintain our equipment as it's designed to last without substantial investments in its servicing. What's more, when ordering Yongtao's waterjet stone machines in China, you don't need to fret about their installation. Leave this to one of our techs who will arrive at your facility to set it up and train your staff.
Be sure to view more features of our water jets before making your choice. For a quote and delivery details, hit us up at your convenience.