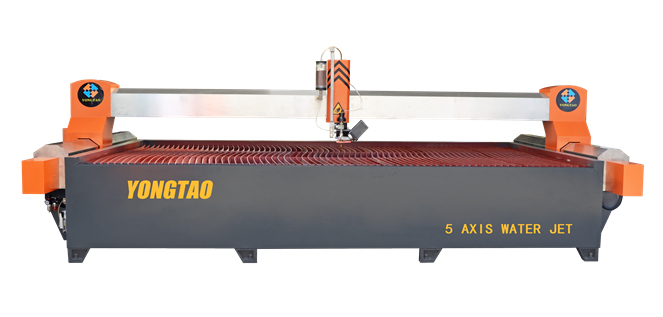 Affordable water jet machines to make a difference in your cutting
If you are in the market for a machine to ream or shape materials while ensuring utter perfection in their details, Yongtao will cater to your needs. We offer cnc water jet cutter for high-precision processing of granite, steel, wood, glass, and even stone. Being at the forefront of innovative technologies, we offer waterjet for sale upgraded with state-of-the-art solutions for multi-axis cutting at different vertical levels. They are also known for the following advantages:

- our waterjet machine for sale are environmentally friendly
- materials are cut without the use of melting and burning techniques
- they don't cause surface hardening, as opposed to thermal processing
- dust and hazardous gases are never an issue
- our water jets perform at a high velocity, with up to 11.1 l/min in the flow rate
If you're looking to enhance production efficiency at your facility, you can't go wrong with these machines. Computer-controlled, they can be up and running for a long time, all while meeting your pressure control requirements. Plus, our water jet cutters leave no jagged edges on tiles, plates, or whatever products you need to shape.
Choose the best water jet cutting equipment for your facility
Whether you need a machine for stone, ceramic, or other materials, we've got you covered. Designed for high-pressure abrasive cutting, our equipment is beyond compare for businesses specializing in tile manufacturing, glass making, automobile parts production, and everything in between. Look through our curated selection to find what fits the bill.
As prime waterjet manufacturers that always listens to your needs, Yongtao will be happy to provide you with:
- pre-sales consultation
- fair water jet price
- after-sales service
- equipment installation assistance
What's more, we take pride in providing you with satisfaction guarantees. Our waterjet for sale go through rigorous testing procedures to make sure they meet production standards and match the requirements of your facility. They are also covered by the one-year warranty for your more effective protection as Yongtao's customer.
We are here to serve any industry and handle any order. Contact us to get get the best water jet price and all the required information on our water jets.
Yongtao Machinery is a well-known manufacturer of water jet CNC machinery in China, providing various high precision CNC water jet cutting machine technology, water jet cutting machine installation and after-sales service for global customers, and is also one of the top ten water jet CNC machinery manufacturers in China. Yongtao machinery sales of CNC water jet cutting machine all over the world, deeply loved by the majority of customers. We always firmly believe that: customer first, service first, quality first goal. Do a good job of our water jet CNC machinery product quality, is the greatest guarantee for customers. When you purchase my CNC water jet cutting machine, our service is just beginning. Please believe that you are making the right choice!
Yongtao machinery is the largest waterjet manufacturers and supplier in China, providing the best cnc water jet cutter sales, products cover 3 axis water jet cutting machine and 5 axis water jet machine。Yongtao cnc water jet cutting machine, can cut ceramic tile, stone, metal, marble, granite, quartz stone, sintered stone, glass, aluminum alloy and many other new materials, the use of yongtao water jet machine customers all over the world, many customers will repeatedly buy Yongtao cnc water jet machine!
As prime waterjet manufacturers in China, our waterjet machine has the highest design pressure of 380-420mpa, cutting speed of 0.5-2m/min, cutting table size has multiple specifications, including 1.3m*1.3m small waterjet machine, 2m*1.5m CNC waterjet cutting machine, 2.5m*1.5 high pressure water jet machine, 3m*2m 5 axis water jet cutting machine, 4m*2m 3 axis waterjet CNC machine. Waterjet cutting system adopts China Weihong CNC system, built-in Chinese and English system, can switch languages at will.
Yongtao waterjet machine for sale can provide 380V, 415V, 220V, cutting accuracy of plus or minus 0.01mm, mechanical structure with bridge type and cantilever type water jet machine, commonly used mechanical structure with bridge type cnc waterjet cutting machine, good cutting stability, high cutting accuracy, users like to choose gantry type water jet cutter.
Yongtao water jet cutter for sale, including the following parts:
1, water jet cutting table
2, CNC water jet cutting system
3. Abrasive supply system
4. High pressure water jet system
5. Circulating cooling system