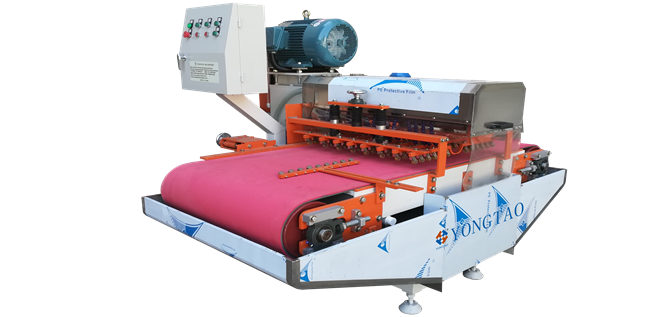 Mosaic cutting machine classify products are mainly for tile, stone Mosaic processing, it can cut tile, marble and other slabs into a variety of specifications of high-grade Mosaic, products mainly include: 400mm single spindle mosaic cutting machine, 600mm single spindle mosaic cutting machine, 800mm single spindle mosaic cutting machine. The mosaic cutting machine can cut square shape, strip shape, diamond shape mosaics, also can cut mosaic grain, such as 15x15mm, 20x20mm, 25x25mm, 30x30mm, 50x50mm mosaics etc. It is widely used in mosaic industry. Reasonable machine designing, high spindle precision, good cutting effect, suitable for mass production of mosaic. Usually cutting mosaics adopt 250-300mm diamond saw blades, the cutting effect will be good. Cutting ceramic mosaics suggest use 600mm single spindle mosaic cutting machine, to cut stone mosaics, suggestion use 400 single spindle mosaic cutting machine.
We are a professional mosaic cutting machine manufacturer and mosaic cutting machine supplier. We have mosaic cutting equipment for sale and we can provide you with high-quality mosaic cutting equipment.
Yongtao Mosaic cutter machinery production, can also be used for quartz stone, ceramic tile,cement products, square brick, PC bricks, porous brick, terrazzo, laying stone, stone Mosaic, black tiles, foam ceramics, pottery clay, blue bricks of the saw blade cutting more, than can one-time cutting, the thickness can be cut to 120 mm, width can be customized processing is 400-1300mm, in article 1 Spindle installed more than cutting saw blade, the variety of building materials can be cut, using range is very wide, has been widely used by many industries, customers all over the world each place, Yongtao is China's largest supplier of Mosaic cutting machine, sales thousands Mosaic cutting machine to all over the world every year, many clients, one-time buy many machines, we are in now All over the world looking for agents to cooperate sales, you are welcome to contact us!