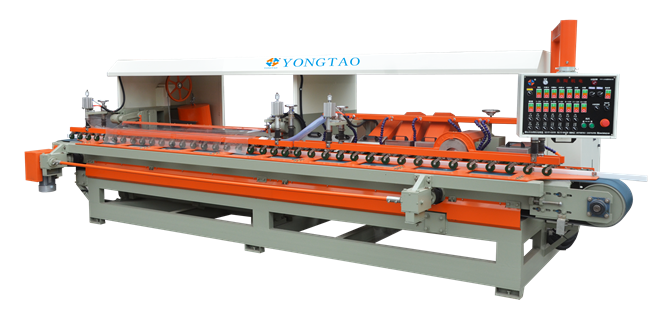 Ceramic tile bullnose polishing machines are mainly used for stair step processing, which is suitable for batch processing of ceramic processing factory. The main products include 10 head ceramic tile bullnose machine,14 head ceramic tile bullnose machine, and other customized tile arc polishing machine.The main functions of the products are: trimming, grooving, chamfering, arc grinding, arc polishing and so on.These products can be combined with two blades CNC ceramic cutting machine, two spindles tile cutting machine, etc. It can batch process ceramic tile skirting, ceramic tile stair steps. It can process 80x80mm,100x800mm, 80x1200mm, 100x1200mm etc specification ceramic tile skirting. It mainly process the arc edge on the ceramic tile skirting.
We have bullnose machine for sale. We can provide you with ceramic nosing polishing machine and ceramic bevel polishing machine.
Yongtao Machinery is China's earliest production and sales of ceramic tile Bullnose polishing machine manufacturer, we have been from the earliest of the first generation to upgrade to the seventh generation of new products, all details are optimized is very nice, convenient operation and maintenance of quick, The effect of processing tile skirting is particularly good.the higher the configuration, the faster processing speed,and the processing cost is also very low, we can provide Custom non-standard tile Bullnose machine, from 8heads, 10heads, 12heads, 14heads, 16heads, all kinds of tile Bullnose machine configuration can be customized, we customize from customer needs, can meet all your requirements, welcome to contact us!