YCMDYP-2500 (5+6)-(6+6) Quartz Stone Countertop Double Round Edge Polisher
The Quartz Stone Countertop Double Round Edge Polisher is a customized machine for quartz countertop processing, it is the latest upgrade countertop edge polish machine. Only one machine can finish straight edge polish, top and bottom round edge polish for quartz countertop. The front of machine have squaring head, top and bottom chamfer head, and R round profile wheels. It through change the R round profile wheel to realize processing different R round. The end of machine have the swing polishing heads for top and bottom R round polishing. No matter single thick slab or double thick slab, it can be polished by this processing method, and processing of R round standard, good brightness. It is a nice machine for sintered stone countertop, quartz countertop, marble countertop and granite countertop processing. This machine has the advantage of simple operation, convenient maintenance, easy to learn etc, has solved lots of difficulties of quartz countertop processing, so it is a worthful edge polishing machine for your countertop processing.

Processing materials: sintered stone, marble, quartz stone
Quartz Countertop Edge Polishing Machine: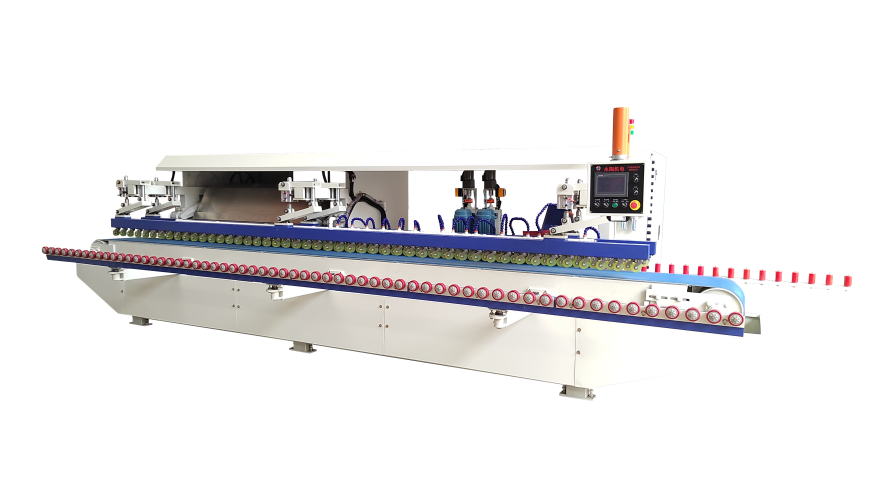 The Quartz Stone Countertop Double Round Edge Polisher features:
1.the press structure adopts double cylinder, the pressure wheel is staggered structure design, the pressure is more uniform, the pressure on slabs is more stable;
2.The main belt is 500mm wide, the processing of quartz countertop is more stable and better
3.Auxiliary belt design, can support a larger specification of quartz countertop, the main belt and auxiliary belt synchronous operation, slab will not deviate;
4. the structure design of red guild wheel can better adjust the straightness of the slab, so that the slab into the belt is kept in a straight line with the diamond grinding wheel, and the processing effect is better;
5. Rocker arm electric cabinet structure design, operation is more convenient, more flexible, can see the adjustment and control of each grinding head in front of the machine;
6. most of the mechanical control, is operated through the display screen, the display is clear, intuitive, easy to operate;
7. each motor is designed with a waterproof cover, to avoid sewage into the motor, to avoid motor water and burning motor;
8. 2 diamond setting wheels, can first R arc shape grinding, and then through the back of the upper and lower arc swing polishing, processing of the top and bottom arc shape is better, more smooth, more beautiful;
9. straight edge, top and bottom arc polishing grinding pieces, using snail buckle connection and polishing, using water grinding pieces of different thickness number of mesh polishing, to achieve the most ideal effect;
10. each polishing grinding head adopts independent motor and cylinder control, using pneumatic polishing, processing brightness and polishing effect can be more perfect.
The Quartz Countertop Round Edge Polishing Machine Parameters:
| | | |
| --- | --- | --- |
| No | Name | Parameter |
| 1 | Squaring head | 1pc |
| 2 | Squaring head motor power | 3kw |
| 3 | Diameter of squaring wheel | Φ200x60mm |
| 4 | Top chamfer head | 1pc |
| 5 | Top chamfer head motor power | 3kw |
| 6 | Diameter of chamfer wheel | Φ200x60mm |
| 7 | Bottom chamfer head | 1pc |
| 8 | Bottom chamfer head motor power | 3kw |
| 9 | Diameter of chamfer wheel | Φ200x60mm |
| 10 | R round profile head | 2pc |
| 11 | Profile head motor | 3kwX2pc |
| 12 | Diameter of profile wheel | Φ150x22mm |
| 13 | Straight polishing head | 6pcs |
| 14 | Straight polishing power | 0.75kwX6pcs |
| 15 | Diameter of polishing slice | Y3 (Φ125) |
| 16 | Top R round polishing head | 6pcs |
| 17 | Top R round polishing head motor power | 1.5kw*3pcs |
| 18 | Diameter of polishing slice | Φ125 |
| 19 | Bottom R round polishing head | 6pcs |
| 20 | Bottom R round polishing head motor power | 1.5kw*3pcs |
| 21 | Diameter of polishing slice | Φ125 |
| 22 | Conveyor belt | 500mm |
| 23 | Auxiliary belt width | 150mm |
| 24 | Processing speed | 1-3m/min |
| 25 | Processing thickness | 6-20mm |
| 26 | Processing width | 300-2500mm |
| 27 | Total power | 35.5kw |
| 28 | Size of machine | 6.55mX2.76mX1.87m |
| 29 | Weight | 6000kg |
| 30 | Conveyor belt motor | 3kw |
| 31 | Swing motor | 4kw |