YAQZ-2000 CNC sintered stone cutting machine. This is a CNC sintered stone cutting machine, which independently developed and produced by China Yongtao Machinery Co., Ltd. It has two cutter heads connected under one motor. One before and one after,twice cut-off. In this way, the plate cut by this way will not appear the broken angle.It is better than one blade cutting method.There are two motors in front of and behind one beam.The four motors are of the same structure, totally eight blades. The four motors can be horizontally moved by CNC. The four motors also can be electrically lifted and lowered respectively. The machining accuracy is CNC through driving the baffle. Maximum cutting width is meter. It can cut 5 strips in one time from one slab. If you have multiple strips that need to be cut out at once.This CNC sintered stone cutting machine is your best choice.CNC debugging operation is simple, good stability. Loved by customers all over the world. It can continuously process large size, fast speed cutting, suit for variety of materials cutting, it is a necessary machine in most of tile and sintered stone processing factories.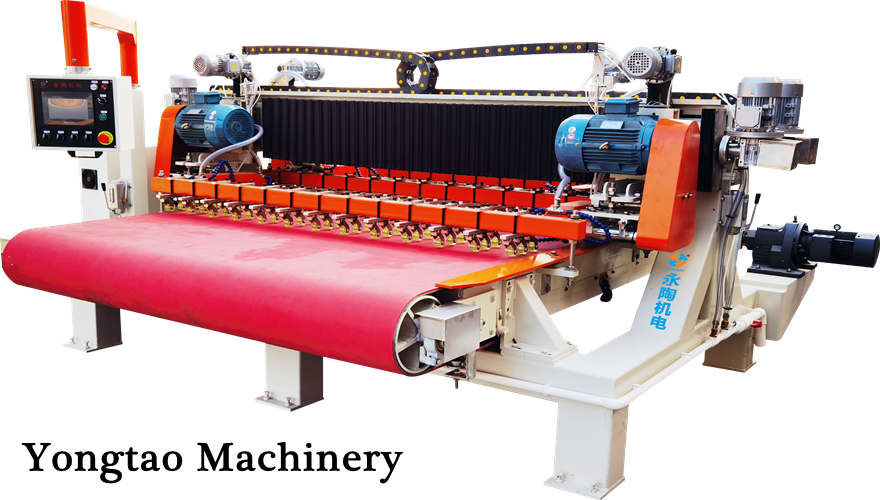 CNC sintered stone cutting machine、Cutting materials:
Sintered stone, ceramic tile, artificial stone, quartz stone.


sintered stone cutting machine、Characteristic:
1、The conveyor belt use two layers belt, the upper red layer can be cut at will
2、Press the roller and adjust the lifting manually.
3、Baffle CNC adjustment can ensure the cutting accuracy.
4、A single motor is equipped with two cutting heads.One knife in the front cuts in half and the other in the back.It can effectively avoid the angle of cutting surface chipping.
5、The beam movable rod is made of imported precision material.Four motors are moved left and right, and the cutting size is controlled by numerical control system.
6、Water cooling and oil cooling dual cooling system is adopted for cutting head.It can avoid the high-speed running bearing burning out due to high temperature.
7、Each motor pulley is equipped with a protective cover, which can avoid injury when starting.
8、The wire is equipped with a small rocker electric cabinet, which is convenient for operators to operate.


Large size ceramic cutting machine、Technical parameters:
| | | |
| --- | --- | --- |
| Area code. | name. | Technical parameters. |
| 1 | Seven big heads. | Four groups of 8 blades. |
| 2 | Cutting blade size. | Φ150✱20mm |
| 3 | Cutting motor power. | 5.5kw✱4pcs |
| 4 | Lifting motor power. | 0.37kw✱4pcs |
| 5 | Horizontal moving motor power. | 0.37kw✱4pcs |
| 6 | Conveyor belt width | 2000mm |
| 7 | Processing width | 200✱2000mm |
| 8 | Processing speed. | 1-3m |
| 9 | Processing thickness. | 9-20mm |
| 10 | Total power. | 24.96KW |
| 11 | Size of machine | 3m✱3.7m✱1.9m |
| 12 | Total.( ton). | 2.8T |