YTH-800 Dry Tile Cutter Production Line
Function: Cut, Squaring edge, Chamfer
Advantages: Fast speed, low cutting cost, suitable large output ceramic factory
Suitable tiles: Polished tile
Size of cutting: 800*800mm, 600*600mm cut into 800*400mm, 600*300mm
8 hours capacity: 11200pcs (600*300mm)
Dry Tile Cutting Machine: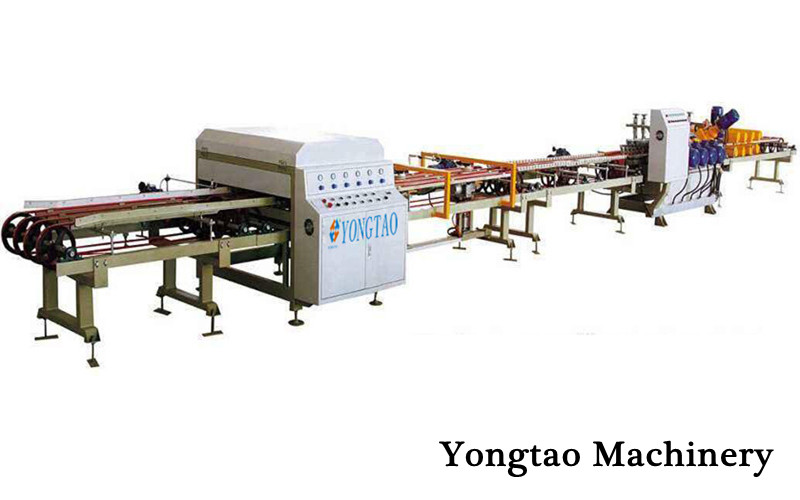 YTH-800 Dry Tile Cutter Production Line is a maturing product, which was researched and developed by Yongtao Machinery a few years ago. The machines have the advantage of high speed, low cost of cutting, especially suitable for large ceramics factory, large ceramic processing factory using. Specifications for single batch production factory, it has economizes manpower, and high efficiency, can effectively help enterprises to solve the small size, high cost, low efficiency, poor quality troubles.
This dry tile cutter is mainly used to ceramic factory and ceramic processing factory, it can cut tile into two pieces or four pieces in one time. The production line can cut 600*600mm into 600*300mm, daily output can reach 5500 square meter. It is equivalent to the output of an ordinary bar furnace.
Characteristic of cutting: YTH-800 Dry Tile Cutter Production Line
1.Cutting head use the diamond wheel, low cutting cost
2.For cutting 800*800mm into 800*400mm tiles, the cutting speed fast, large output
3.After cutting, the tiles can be turned 180 degree, go to the edge polishing machine
4.After processing, there are dry device to drying the tile, the finished products can be packed directly.
5.Simple operation, easy to maintain, stable quality.
Parameter of YTH-800 Dry Tile Cutter Production Line
| | | |
| --- | --- | --- |
| No. | Name | Parameter |
| 1 | Model number | YTH-800 |
| 2 | Cutting method | Dry Cutting |
| 3 | Cutting heads | 1pc |
| 4 | Cutting size | 800*800mm, 1000*1000mm |
| 5 | Numbers of squaring head | 4pcs |
| 6 | Diameter of squaring wheel | 200mm |
| 7 | Numbers of chamfer head | 1pc |
| 8 | Diameter of chamfer head | 125mm |
| 9 | Squaring size | 800*400mm,1000*500mm |
| 10 | Processing speed | 6-10m/min |
| 11 | Speed of belt | 5-25m/min |
| 12 | Air consumption | 50L/min |
| 13 | Water consumption | 100L/min |
| 14 | Voltage | 220/380/415V |
| 15 | Size of machine | 13m*2m*1.6m |
| 16 | Weight | About 3500kg |