Double Saw Blade Tile Cutting Saw, which is a ceramic tile and sintered stone processing machine newly launched by Yongtao Machinery. The machine can max cut the size of 3200mmx1600mm. The first blade is resin groove disc, and the second blade is diamond blade. This structure design can effectively reduce the occurrence of cutting chipping on edge. The first disc cut the glaze layer, and the second disc cut off. The second head adopt high speed cutting way, CNC adjust cutting width, which can ensure the accuracy of cutting. The cutting head can be horizontally moved, and lifting controlled by altimeter. This is the double saw cutting structure application in tile cutting, the cutting effect good without chipping or corner damage
There is lots of large size ceramic tiles, large size sintered stone slabs. Choosing this double saw blade tile cutting saw, it can meet most of ceramic tile cutting needs, whether it's small size ceramic tile, or small size sintered stone, the ceramic tile cutting machine can meet your processing requirements. The machine have the advantage of simple operation, fast speed, which is the best choice for processing ceramic tile, sintered stone.
tile cutter machine: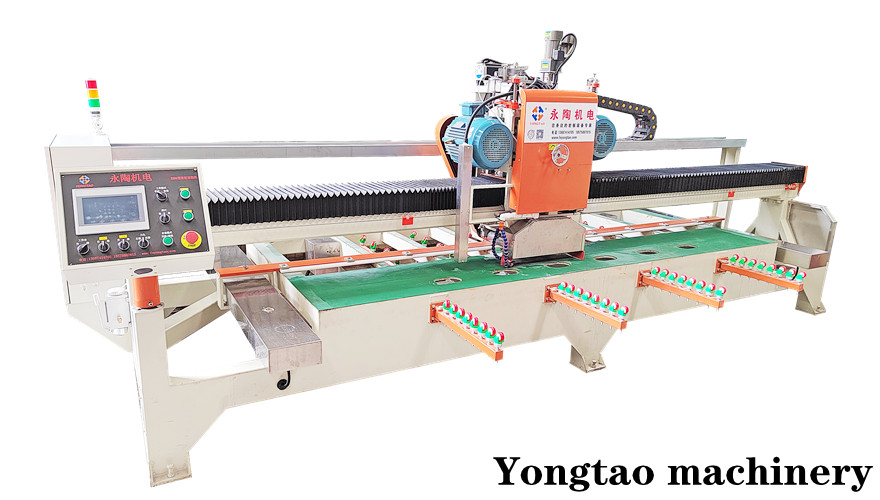 Processing materials: Ceramic tile, sintered stone
Function: Cutting, squaring
Features of Tile Cutting Machine:
1, gantry structure design, left and right movement, high cutting accuracy;
2, double blade structure design, the first disc cut the glaze layer, and the second disc cut off, this cutting method, cutting effect is good, no chipping or corner damage;
3, cutting head can only cut straight line, the size of the need to cut, through the gauge control cutting size;
4, 2 cutting motors, before cutting, according to the front altimeter, automatically adjust the cutting height for cutting;
5, cutting machine front design 4 support frame, processing large plate, can play the role of supporting plate;
6. The size of baffle and cutting saw blade can be controlled accurately, and the cutting size can be controlled accurately;
7, below the back of the gauge, is provided with a universal wheel, and after the plate processing is completed, the plate can be supported, convenient to take out the processed plate;
8. The front head is installed with resin disc to slotting, and the second disc is cut off the plate. This cutting method has good cutting effect.
9. Control the CNC display screen of the electric box, input the size to be cut on the screen, and the gauge automatically enters and exits to the position to be cut for precise cutting;
10. Stainless steel water cover is designed on the outside of 2 cutting saw blades to prevent the sewage from being sprayed out during cutting, and also to effectively prevent the operator from being injured during cutting.
Parameters of Sintered Stone Bridge Saw:
| | | |
| --- | --- | --- |
| No. | Name | Parameter |
| 1 | Cutting head | 1pc |
| 2 | Motor power | 7.5kw |
| 3 | Diameter of blade | Φ130-190mm |
| 4 | Groove head | 1个 |
| 5 | Motor power | 5.5kw |
| 6 | Diameter of disc | Φ130-190mm |
| 7 | Processing width | 3200X1600mm |
| 8 | Processing thickness | 3-20mm |
| 9 | Speed | 0.5-3.5m/min |
| 10 | Total power | 12kw |
| 11 | Size of machine | 5100X2250X1900mm |
| 12 | Weight | About 2000kg |
| 13 | Height of worktable level | 610mm |
| 14 | Voltage | 380V、50HZ、3phase |