Description of YTQS-1-1200 Manual Tile Cutting Machine
YTQS-1-1200 Manual Tile Cutting Machine is specially used for cutting ceramic tile, it is to belong to a small ceramic tile cutting machine, at the time of processing irregular size, this kind of ceramic tile cutting machine is easy to operate, flexible and adjustable size. Manual tile cutter machine can cut triangle shape, diamond shape, strips, angle broken tile, and other irregular size, can also make grooving on tile surface.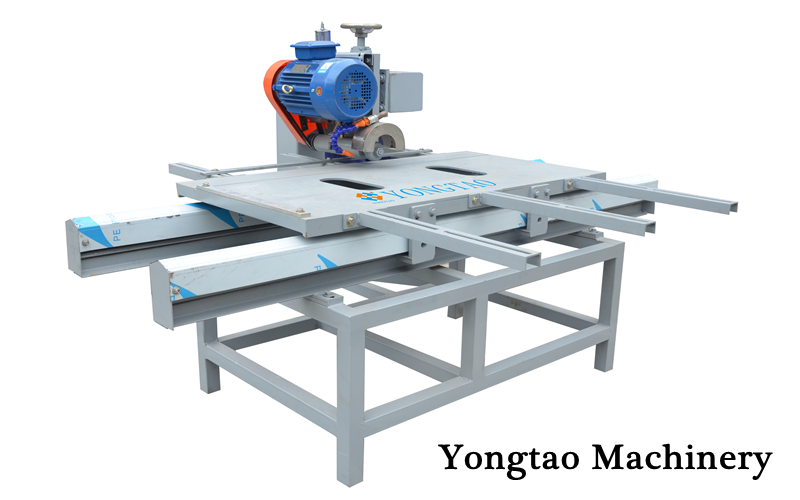 The machine frame adopts square steel tube, taper shaped guide rail, with two concave grooves on the side of wheel. On the other side has 2 bearing, when platform moved, the concave grooves will hold the tapered guide rail, on the other side of the bearing move on the flat guide. When processing the large sizes tiles, both sides of machine have support frame. The baffle have a small rectangular iron support fixed on the left, just need to adjust good size screwed in a location. The position of cutting head has an oil cup, which will lubricate the spindle, let high-speed rotation of the nose to avoid heat, make the bearing service life is longer.

Manual tile cutting machine can process kinds of tiles, such as: polished tile, archaistic tile, glazed tile, glassed tile, microcrystalline tile, full body tile, etc. Different kinds of tile use different blade, because the material of blade with different diamond sand. The cutting blade is divided into three types: the first is sharp type, the second is durable, and the third for microcrystalline special blade (corrugated). YTQS-1-1200 series ceramic tile cutting machine has the characteristic such as safe, accurate, lightweight, durable, brick straight and not collapse edge, cut by manually adjustable size. Yongtao tile cutting machine is the necessary machine in ceramic processing industry machinery equipment.

Parameter:

| | | |
| --- | --- | --- |
| No. | Name | Parameter |
| 1 | Nos. Of cutting head | 1pc |
| 2 | Dia. Of blade | Φ110-130mm * 20mm |
| 3 | Main motor power | 3kw |
| 4 | Speed of conveyor | 1.5m / min |
| 5 | Max. Cutting width | 1200mm |
| 6 | Max. Cutting thickness | 20mm |
| 7 | Total power | 3kw |
| 8 | Size of machine | 2.2 * 1.4 * 1.4m |
| 9 | Weight | About 200kg |
| 10 | Water consumption | 100L / min |
We have manual tile cutter for sale and we provide you withbest professional manual tile cutter.