YTQZ-A/3-800 type three blades ceramic cutting machine is a tailored ceramic cutting machine for ceramic processing factories by China Yongtao machinery. This kind of ceramic cutting machine has three main motor to drive three cutting cutting head, each of cutting head can be separately adjustment. So it can cut 4 pcs in one time. The cutting width can be adjusted by manual. The side of machine has a baffle to locate the 0 position. The machine stall 4 pcs of press plate, each of plat install 6 pcs polyurethane wheel to ensure the tile can't move during cutting. The conveyor belt has two layers, the upper layer can be cut at will. Its max cutting width can be 800mm. For example, 800x200mm, 800x100mm, 800x400mm, 800x120mm, 800x250mm etc. The cutting speed is frequency controlled, which can be easily adjusted for different kinds of tile. If you need multiple size cutting, this three blades tile cutting machine is a good choice for you.

Three blade tile cutting machine: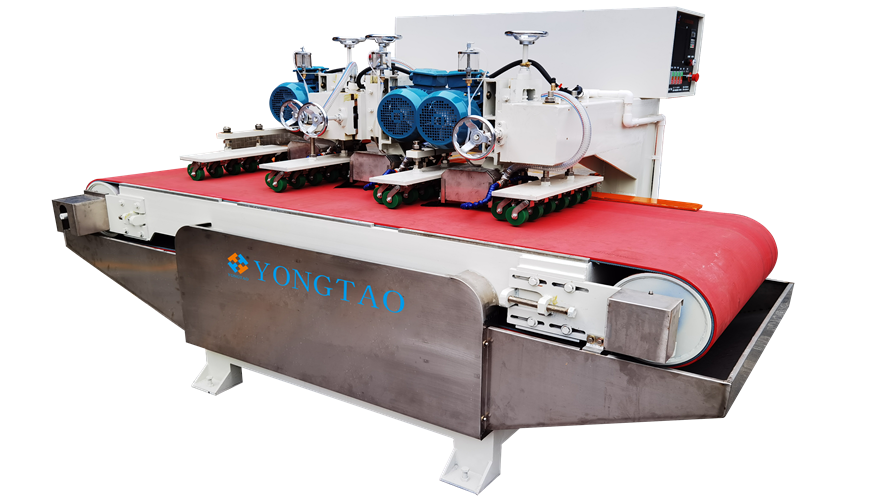 Three blade ceramic tile cutting machine Characteristic of machine:
1.The machine high accuracy screw lead with oil dipped lubrication, to ensure the cutting accuracy.
2.It use stainless steel water proof cover, to prevent splashing of sewage
3.Each cutting head have a proof cover, to prevent injure
4. The protective cover is installed at the movable position beside the front and rear rollers to avoid injuring fingers.
5. The height of cutting tool head is adjusted by hand, with strong operation flexibility.
6. The cutting tool head adopts oil-cooled and water-cooled, double cooling system to avoid burning the bearing during high-speed operation.
7. The front, middle and back three cutting heads are manually adjusted to enter and exit the cutting position.
8. This ceramic cutting machine adopts frequency conversion and slow speed regulation to ensure the cutting effect.


Three blade ceramic cutting machine Parameter:
| | | |
| --- | --- | --- |
| No | Name | Parameter |
| 1 | Nos. Of cutting heads | 3pcs |
| 2 | Dia. Of cutting blades | (Φ120-130)✱20mm |
| 3 | Cutting motor power | 4kw✱3个 |
| 4 | Conveyor belt width | 812mm(red) |
| 5 | Max cutting pcs | 4pcs |
| 6 | Size of press plate | 51cm*15cm |
| 7 | Numbers of press wheel for each press plate | 11pcs |
| 8 | Motor belt | Multi grooved belt |
| 9 | Size of machine 4 fixed leg | 1.3m*1.3m |
| 10 | Speed adjustment | Frequency |
| 11 | Protection cover material | Stainless steel |
| 12 | Baffle adjustment | By manual or electric |
| 13 | Total power | 13.2kw |
| 14 | Size of machine | 2.75m✱1.6m✱1.63m |
| 15 | Weight (T) | 1.6T |