YTQZ-B/2-800 Double Spindle Multi Saw Blade Tile Cutting Machine
YTQZ-B/2-800 Double Spindle Multi Saw Blade Tile Cutting Machine. This is two spindle tile cutting machine,it is specialized to cut tile strips.It can install 7-8 blades on each spindle,which can cut the tile into several strips in one time.For example, cut 800x800mm tiles,it can install 7pcs of blades,and cut into 10pcs of 98x100 strips.It is suit for producing ceramic tile skirting.
Yongtao Multi Saw Blade Tile Cutting Machine, can cut ceramic tile, marble, foam ceramic, quartz, blue bricks, cement brick, square brick, terrazzo, black stone and so on building materials. It has two cutting spindles, which can be installed multiple cutting saw blade. Between two blades used spacer to separate, clamp holder and fixed blade, spacer adjusting processing width, every set of random equipped with multiple dimensions, according to the technical requirement to choose the adjust spacer size. What's more, After clamp holder and spacer installed, cutting precision is very high. Yongtao automatic tile cutting machine, can cut a variety of materials, loved by worldwide customers, whether in a variety of sizes of cutting, or thick slab cutting, the wet tile cutting machine can meet your various processing needs

Automatic Tile Cutting Machine: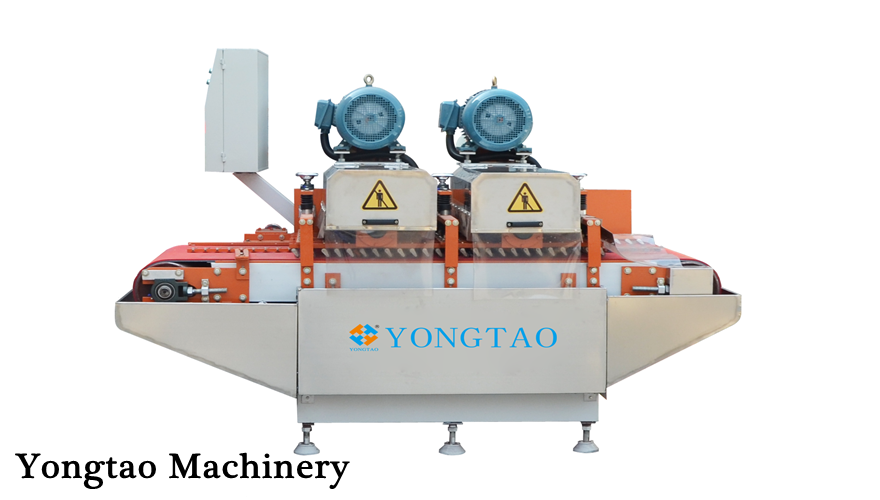 Wet Tile Cutting Machine:
(1) Well-known brand electric motor and bearing produce high quality.
(2) Twice cutting can assure high speed and less edge-crack.
(3) V-guide of the conveyor belt keeps the belt running with high precision.
(4) Spindle bearing block cooled by water-cooling equipment assures long time continuous cutting without being overheated.


Multi Saw Blade Tile Cutting Machine:
| | | | |
| --- | --- | --- | --- |
| No. | Name | 600 | 800 |
| 1 | Nos. Of cutting head | 2pc | 2pc |
| 2 | Width of conveyor belt | 620mm | 820mm |
| 3 | Dia. Of blade | Φ150-300mm*60mm | Φ150-300mm*60mm |
| 4 | Main motor power | 15kw | 15kw |
| 5 | Conveyor motor | 1.5kw | 1.5kw |
| 6 | Speed of conveyor | 0.8-4.0m/min | 0.8-4.0m/min |
| 7 | Lifter motor | 0.75kw | 0.75kw |
| 8 | Cutting width | 20-800mm | 20-800mm |
| 9 | Max. Cutting thickness | 20mm | 20mm |
| 10 | Total power | 33kw | 33kw |
| 11 | Size of machine | 2.5*1.58*1.63m | 2.5*1.78*1.63m |
| 12 | Weight | About 1500kg | About 1800kg |
| 13 | Water consumption | 400L/min | 400L/min |