Description of YTQS-2-1200 Manual Multifunctional Tile Cutting Machine

YTQS-2-1200 Manual Multifunctional Tile Cutting Machine. The machine is a powerful deep processing machine for ceramic tile which is a typical versatile tile cutter. It can do almost all of processing by this single one machine, such as cutting, grooving, edging, chamfering, grinding bullnose. It is the best simple tool for processing ceramic tiles. The max pressing size: 1200x1200mm, cutting speed: 1.5m/min, cutting thickness:6-20mm.The machine have the advantage of: multi functions, small volume, low dust pollution. It can be used in construction site, processing factory, even home decoration site.
Manual Multifunctional tile Cutting Machine: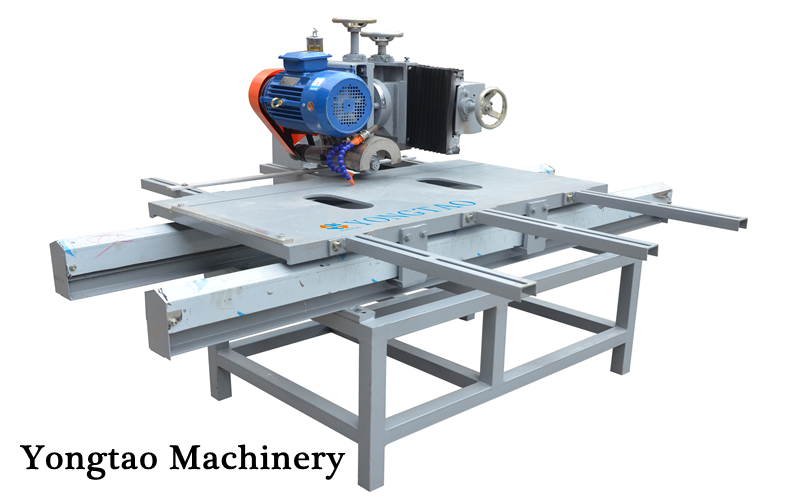 Parameter of YTQS-2-1200 Manual Multifunctional Tile Cutting Machine

| | | |
| --- | --- | --- |
| No. | Name | Parameter |
| 1 | Nos. Of cutting head | 1pc |
| 2 | Dia. Of blade | Φ110-130mm *20mm |
| 3 | Main motor power | 3kw |
| 4 | Speed of conveyor | 1.5m/min |
| 5 | Max. Cutting width | 1200mm |
| 6 | Max. Cutting thickness | 20mm |
| 7 | Total power | 3kw |
| 8 | Size of machine | 2.2*1.4*1.4m |
| 9 | Weight | About 240kg |
| 10 | Water consumption | 100L/min |
Yongtao manual multifunctional tile cutting machine is one of the manual tile cutters. It is convenient and fast to cut tiles and can achieve accurately cuts. This cutting machine has 6 cutting tools.Different tools can be installed to achieve different functions.This manual tile cutting machine can cut 1.2 meters in maximum, which is convenient for transportation and installation. Customers who bought this manual multifunctional tile cutter are all over the world, and they are well received by everyone!
tile cutting machines for sale (Tile Cutting machine price):
This manual multifunctional ceramic tile cutter can be customized for 220V, 380V, 415V cutting motors. According to different countries and regions, choose the motor and voltage that suits you. Different motors and voltages require special customization. The price of the functional tile cutter is also different. The Price of 1200 manual tile cutter machine:$2200-3000. This price includes 1 set of tile cutting machine accessories. If you need more tile cutter machine accessories, you need to purchase another one. If you just need one A manual multifunctional tile cutter, contact us now!
This manual multi-function tile cutting machine is a manual tile cutting machine customized by Yongtao Machinery according to the needs of customers. It has the characteristics of simple operation and multiple functions. It can process tile stair steps, tile skirting, and the machine occupies a small area and is easy to transport. It is very popular with overseas customers. For tile shops with small processing volume, this machine is very affordable and can be bought by many people. It is a very practical small tile cutting machine.

If you have more processing orders and more processing methods for processing orders, this machine is definitely very suitable for your needs, because it can meet your processing needs. When using different functions, you only need to replace different functions. This machine can process the products you want very quickly. The processing of external fillets is divided into rough grinding and fine grinding, and chamfering also has two processing methods: rough grinding and fine grinding, which are processed in 2 times. A product of one shape, the processing effect is very good, if you happen to need a manual tile cutter, then you must buy this machine.