Description of YTQKS-1200 Ceramic Tile Back Grooves Cutting Machine
YTQKS-1200 Ceramic Tile Back Grooves Cutting Machine is used for making grooves on the back of tile,which is used for dry hang up tiles on the wall. Ceramic groove cutting machine have two cutting heads,which can be automatically sensed and lifted.It can be horizontal adjusted the width of two grooves. The lifting of cutting head is driven by air cylinder,and the height and angles of cutting head also can be adjusted.The cutting heads are controlled by travel switch to control cutting distance,single trip can make 2 grooves.

ceramic tile hanging slotting machine: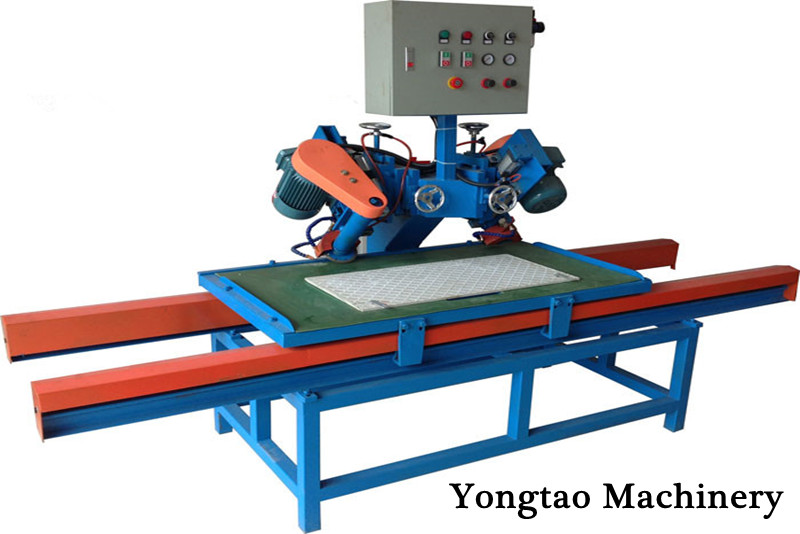 The cutting head installed on one the side of the platform, which adopts cast iron materials. The worker push the platform to the cutting area. It adopts wet type cutting, whole processing need water for cooling,to avoid the lack of water and burning blade and damage ceramic tile. The machine need to be equipped with a air compressor. During the process of cutting head down, the cylinder needs to use gas.
The machine has the advantage of semi-automation control with low cost, simple operation, good effect of grooves. Due to the reasonable designing, this machine does not chipping. It is popular in most of tile processing factories, storefront, etc.
Technical Parameter of YTQKS-1200 Ceramic Tile Back Grooves Cutting Machine
Motor power

3kw*2pc=6kw

Function

Grooving on the back of tile

Size of machine

2.7*1.3*1.8m

Diameter of blade

(110-130)*20*2.0mm

Voltage

220/380V

Weight

约300kg

Specification of processing

300*600mm、400*800mm、500*1000mm、600*1200mm

Dry hang tool

8001 type groove width27mm

8803type groove width 28mm

69803type groove width40mm

Materials: Aluminium alloy

Processing method

Dry hang up

Processing materials

Ceramic tile, stone slab
Environment protection
No glue (the tradition method need add lots of glue, which will come out poison gas)
Stability
It use dry hang tool connect the wall and tiles, very stably.
Don't fall off
Preferred installation method for beams and doorways, fasteners are closely connected with ceramic tiles, stone materials and walls (due to the low water absorption rate of ceramic tiles and stone materials, some of the old installation cannot be bonded with cement or walls, which is easy to fall off).
Removable:
Do not use cement paste, exit nut can be removed and changed (fastener, ceramic tile, stone can be reused).