Description of YSU-1200 16 Head Stone Polishing Machine
This stone polishing machine is the earliest customized production of China Yongtao Machinery according to the needs of customers. The surface polishing treatment of large plates has the characteristics of high processing efficiency and large output. It has simple operation and meets international standards. , It adopts safety protection device and safety mark for loopholes, which can be customized according to requirements. It is a very easy-to-use stone machine for stone processing plants and polishing plates.

YSU-1200 16-head stone polishing machine, which can polish the surface of marble, stone, quartz stone, granite, and also can be used for the surface polishing of stone mosaics, as well as some small pieces of stone, the surface polishing treatment, the maximum processing is 1.2 meters If you need a larger plate polishing, you can use a large-size marble polishing machine.
Marble polishing machine: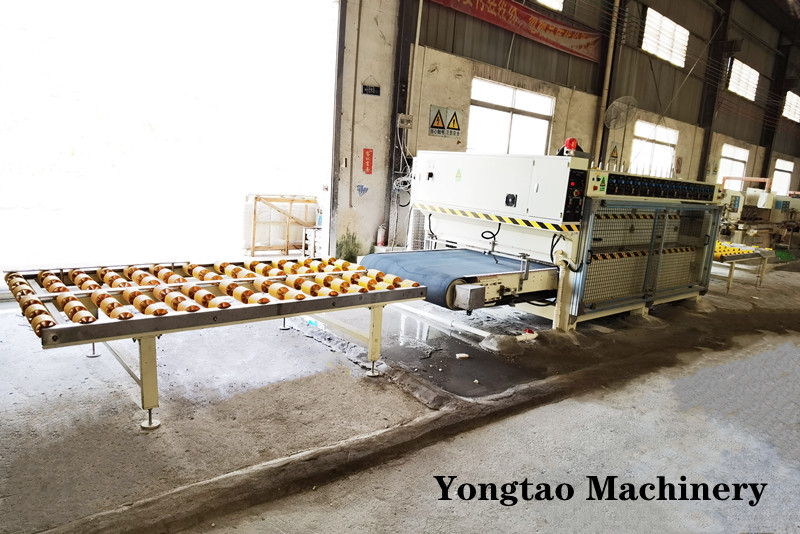 This stone polishing machine has 16 grinding heads, and each polishing grinding head is equipped with a polishing pad, usually numbered 50#, 150#, 300#, 500#, 1000#, 1500#, 3000#, 6000#, etc. Different grinding head meshes have different polishing effects, and for different materials, the choice of grinding heads is also different.


Yongtao Machinery is the largest stone machinery manufacturer in China, producing a variety of models of stone polishing machines, including stone edge polishing machines, stone Flat polishing machines, stone bevel polishing machines, stone round edge polisher, these stone machinery can be customized The processing size you want can meet all your stone processing needs.

Parameter of YSU-1200 16 Head Stone Polishing Machine

| | | |
| --- | --- | --- |
| No. | Name | Parameter |
| 1 | Conveyor belt | 1220mm |
| 2 | Nos. ofpolishing head | 16pc |
| 3 | Diameter ofpolishing pad | Φ150mm |
| 4 | Nos. ofpolishing motor | 8pcs |
| 5 | Motor power of polishing head | 4kw |
| 6 | Motor power of swing | 3kw |
| 7 | Motor power of conveyor belt | 3kw |
| 8 | Polishing speed | 0.5-2.5m/min |
| 9 | Max polishing thickness | 50mm |
| 10 | Max polishing width | 1200mm |
| 11 | Total power | 36.1kw |
| 12 | Air consumption | 40L/min |
| 13 | Water consumption | 350L/min |
| 14 | Dimension of machine | 5.3m*2.25m*1.85m |
| 15 | Weight | About4500 kg |