Model No: YJ-1313-3X
Product Name: Small 3-axis CNC water jet cutter
Processing material: Ceramic tile, aluminum plate, stone, marble, granite, metal, glass, stainless steel, wood, steel plate, copper, rubber, plastic, artificial stone, quartz stone and other materials.
Origin: Foshan, Guangdong, China
Brand name: Yongtao
Mode of transport: Sea, railway (container transport)
Mechanical construction: cantilever construction.

Brief Introduction of small water jet cutter:
Yongtao 3 axis water jet CNC machine is a small water jet cutting machine, using pure water mixed abrasive waterjet cutting. Through high-pressure water jet to the plate, realize the material to cut off the way. The water jet cnc machine covers an area of small, cost-effective, specially for the small pieces of plate cutting.

The cutting head is vertical, processing speed fast, compared with 5 axis water jet cutting machine, 3 axis of water jet cutting machine twice as fast than 5 axis water jet efficiency. It using computer CAD drawing software, windows system, can effectively realize the graphical output command and cutting. You can make any graphics plane cutting, cutting on a variety of materials. Since high precision lead screw using, it can achieve higher machining precision, the operator only need understand the CAD drawing and then operate the machine. the water jet cutter have the advantage on simple operation, convenient maintenance, good stability.Yongtao machinery produce waterjet cutting machine, has more than 10 years of manufacturing experience, all countries around the world have used customer ceramic cnc water jet machine, loved by the masses of customers.
small cnc water jet machine:
Yongtao waterjet machines adopt Chinese and English cutting system , CAD drawing software. This small waterjet machine dimension is 1.3 m * 1.3 m, is the smallest of all current cnc water jet cutter. it adopts cantilever structure, convenient to put slab, the slab can be arbitrary curvilinear cutting, often used in ceramic tile water jet cutting, or small size slab cutting, if your factory is relatively small, choose this small waterjet machine is your best choice!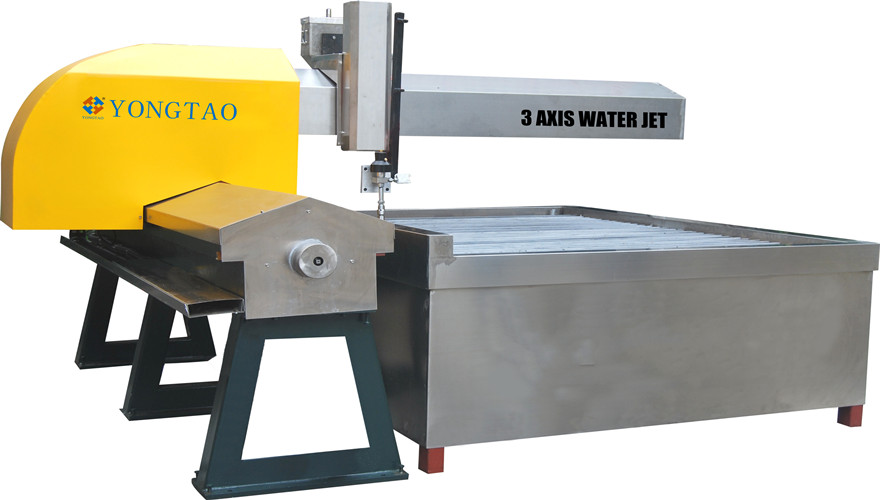 The characteristics of 3 axis cnc water jet machine:
1, vertical cutting, fast processing speed.
2, cantilever structure design, easy to enter the plate, unload the plate.
3. Select components of international brands to facilitate the replacement of parts by users from various countries.
4. Adopt stainless steel protective cover, dustproof, waterproof, rust-proof and corrosion-proof, easy to clean with water, keep water cutting platform shining as new all year round.
5. Servo drive, high precision screw, linear guide rail, can achieve no clearance movement, ensure the smooth movement of the machine, no vibration.
6. unique sand valve design, simple structure, flow sand more smooth, can work for a long time without blocking sand, more convenient maintenance.
7.Humanized design, excellent workmanship, international standard quality, the preferred brand of large enterprises.
Sizes of full set of small water jet cutting machine:

| | |
| --- | --- |
| No. | Packing size of water jet cutting machine |
| 1 | YJ-1313-3X water jet cutting table:2.65m*2.3m*1.6m |
| 2 | Supercharger system:1.3m*0.95m*1.25m |
| 3 | Abrasive system:0.6m*0.6m*0.95m |
| 4 | CNC control system:0.65m*0.65m*1.67m |
| 5 | Water cooling system: 1.0m*1.0m*1.6m |
All component of 3 axis water jet cutting machine:

| | |
| --- | --- |
| No. | Full set of 3 axis water jet cutting machine |
| 1 | Water jet cutting table 1set |
| 2 | CNC control system 1set |
| 3 | Abrasive system 1set |
| 4 | Supercharger system 1set |
| 5 | Water cooling system 1set |
Main parameter of 3 axis water jet :

| | |
| --- | --- |
| Max cutting thickness for metal:40mm | Glass, stone, tile, marble, granite thickness:50mm |
| Max cutting size:1300mm*1300mm | Cutting precision:±0.1mm |
| Dia. of gem:0.33mm | Dia. of water jet nozzle:1.0mm |
| Flew rate:3.7L/min | Max consumption of sand:190g/min |
| Oil:#46/#68(Great Wall hydraulic oil) | Voltage:220V/380V/415V、50/60HZ |
| Drawing tools: Auto CAD | Operation system:Windows XP |
| Z-axis strip:130mm | Max. Water pressure:420Mpa |
| Working pressure:300-380Mpa | Main motor power:30kw |
| Total power:37kw | Cutting head:3 axis water jet |
small water jet cutter:
Yongtao Machinery is a professional supplier of water jet cutting machine in China, providing all kinds of small water jet machines, 3 axis water jet machines and other water jet machines. Our water jet cutting machine for sale is suitable for processing small size slabs, for example, processing 1.3m*1.3m. 2m *1.5m model is suitable for processing ceramic tiles, sintered stone, the processing size is relatively small customers more appropriate. High processing accuracy, high cost performance, small footprint, can be used for cutting a variety of materials. Full computer control, CAD drawing, especially some processing requirements are high, and must use small water jet mechanical processing materials, choose this small water jet machinery is very suitable.