YJ-2015-5L 5 Axis Water Jet Tile Cutting Machine
Model name: YJ-2015-5L 5 Axis Water Jet Cutting Machine
Processing materials: ceramics, stone, glass, metal
Brand: YONGTAO

Characteristic of YJ-2015-5L 5 Axis Water Jet Tile Cutting Machine
Yongtao AB 5 axis water jet cutting machine, is the earliest research and development production in China marketing, products applicable to cut ceramic tile, marble, granite, glass, metal, stainless steel, stone, rock, steel, alloy steel, copper, and many other materials. The machine through the X, Y, Z, A and B total 5-axis cutting, the vertical angle can be 0 to 10 degrees adjusted, can be cut to any 2D drawing, successfully solves problem that the 3 axis water jet cutting machine can not fix the edges. It controlled by computer to make precision cutting. The cutting table adopts gantry structure, good stability, cutting no chipping, the crack is small, high precision. 5 axis water jet cutting machining precision, ultra-high precision instrument testing, repositioning precision instruments and has reached the industry leading level. Yongtao water jet cutting machine has the advantages of simple operation, easy maintenance, low failure rate. The machine has the functions of waterproof, dust proof. All spare parts adopts high precision machine tool to process ensuring the precision of cutting. Yongtao water jet cutting machine do let customers safely using, water jet cutting machine performance is more stable, more reliable, the most perfect pursuit of Yongtao machinery is.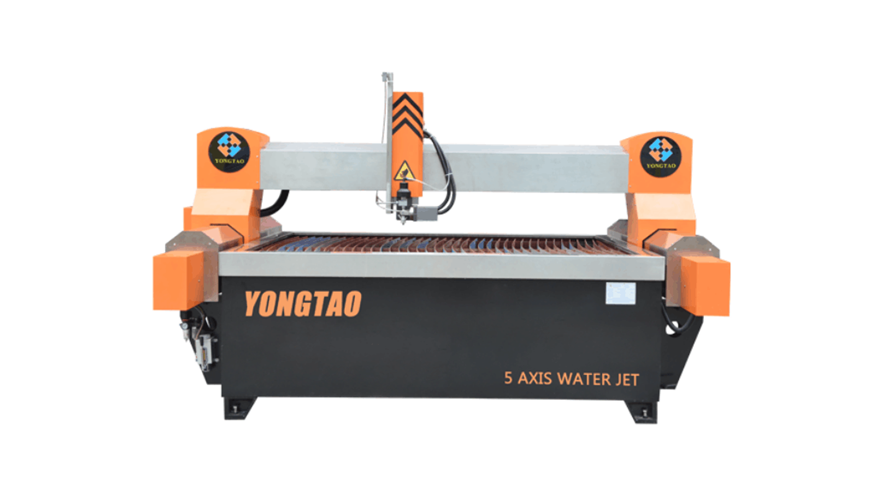 Yongtao 5-axis waterjet cutting machines, the main cut materials: ceramic tile, aluminum alloy. It use abrasive waterjet , 5-axis water jet cutting system. The cutting head can swing plus or minus 10 degrees. This waterjet machine cut ceramic tile medallion is particularly easy to use, the operating cost is also lower than other large flow water jet cutting machine. High pressure water can cut porcelain thickness of 10-50mm ceramic tiles or stone slabs. Cutting speed up to 1 minute 1-2 meters, cutting head using tilt angle, can automatically swing tilt angle, waterjet tile with taper automatically, can realize automatic mosaic pattern.
Electrical Components of YJ-2015-5L 5 Axis Water Jet Tile Cutting Machine
Industrial control machine: joint venture brand
Numerical control system: Shanghai weihong, China
Servo drive: Taiwan
Linear guide: Taiwan
Lead screw: Taiwan
Longeron, beam motor type: high quality servo motor (weihong )
Machine cable: high quality cable
Main electrical components: omron, Siemens

Machine Parameters of YJ-2015-5L 5 Axis Water Jet Tile Cutting Machine
Maximum cutting thickness of metal: 40mm
Maximum cutting thickness of ceramic tile, glass, marble and granite: 50mm
Maximum cutting size: 2000mm*1500mm
Package size: 3.1m*2.35m*1.65m
Machining accuracy: ± 0.1mm
Maximum feeding speed of polished tile: 1.8-2m/min; 800mm tile 1.5-1.8m/min
Power supply :220V/380V/415V, 50/60hz
Computer drawing software: Auto CAD drawing software
Operating system: Windows XP
Z-axis travel: 130mm
Jewel nozzle diameter: 0.33mm
Nozzle size of sand pipe: 1.0mm
Maximum displacement: 11.1L/min
Maximum sand usage: 190g/min
Maximum stroke: 60 strokes /min
Hydraulic oil: no.46 or no.68 (Great Wall hydraulic oil)

The complete set of configuration includes:
1. water jet cutting table
2. CNC water jet control system
3. abrasive supply system
4. water jet supercharger system
5. circulation cooling system

Vulnerable parts of YJ-2015-5L 5 Axis Water Jet Tile Cutting Machine
gem, sand pipe, high pressure water ring, water switch sealing ring, water switch thimble, water switch spherical valve pad, valve core, valve pad, garnet sand

Technical parameters of supercharger - YJ-2015-5L 5 Axis Water Jet Tile Cutting Machine
Maximum pressure: 420Mpa
Working pressure: 300-380mpa
Main motor power: 30kw
Total power: 37kw
Increased pressure: 1:26
Water supply pressure: 0.4-0.8mpa
Maximum displacement of oil pump: 100L/min
Maximum pressure of oil pump: 31.5mpa
Hydraulic oil tank capacity :100L
Overall dimensions: 1.3m*0.95m*1.25m
Weight: 800 kg
Voltage: 380V/50HZ, 3 phase

Parameter of YJ-2015-5L 5 Axis Water Jet Tile Cutting Machine
Model

YJ-2015-5L

Structure

Bridge

Cutting table size

2100x1600mm

Stroke

X-axis

2000mm

Y-axis

1500mm

Z-axis

130mm

CNC Controller

AC Servo System

Accuracy

Cutting

±0.1mm

Repeat ability

±0.05mm

Traverse speed

6000/15000 mm/min

Power source

380VAC, 50Hz, 3Phase