YTYP-1200/4+8 Ceramic Tile Bullnose Edge Polishing Machine
YTYP-1200/4+8 Ceramic Tile Bullnose Edge Polishing Machine is Yongtao machinery according to customer demand for customized a small tile polish machine. Especially for small quantity of tile processing, it can satisfy the need of processing. This ceramic tile bullnose machine is smaller than the standard bullnose machine, which has littler numbers of grind head, but its main function is the same, it can process ceramic tile stair step, ceramic tile skirting. Choosing this tile bullnose machine, have the advantage of cost effective, beautiful design, simple operation, small volume etc, loved by customers all over the world. In the front of machine, there are 4 grinding head, end of the machine has 8 polishing head. The machine can max process 1200mm width, and polishing head using 1#, 2#, 3#, 4#, 6#, 8# combination. The polishing head use resin material, which is durable using and good polishing effect.
The fourth arc shape profile wheel use diamond material. First step profile R10 round edge, and then use 8 polishing heads to polish the surface of R10 round edge. In this way, it can improve the processing speed, reduce the number of polishing head, and achieve a good polishing effect. On other hand, it can prolong the life time of polishing head, shorten the length of machine size. The R10 round edge will be standard and smoothly, without any trace on the surface, can satisfy the processing requirements of various customers. The small tile bullnose machine is a high cost effective machine, which can satisfy the most demands of tile processing, and than its low cost is popular by lots of tile processing factories.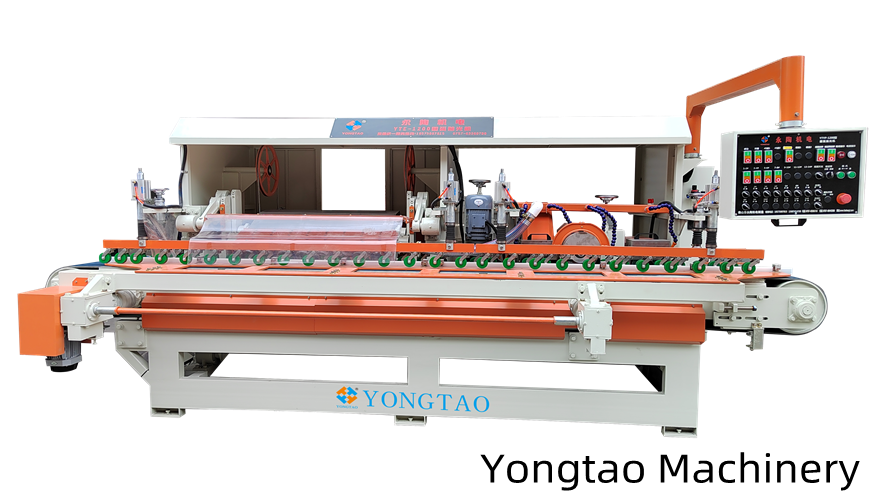 tile Bullnose machine functions:
straight edge grinding, anti slip groove, 45 degree chamfering, bullnose profile, bullnose polishing.
Ceramic tile bullnose machine features:
1, Double row pressure wheel pressure tile, processing large tiles, avoid the tile side up.
2, Outside 1 row of pressure brick structure, using cylinder pressure brick, 4 cylinders can quickly lift, save manual operation time.
3, The pressure wheel adopts polyurethane material, long time running, will not be broken, durable.
4, Electrical components, the use of international electrical switch, easy to buy and replace.
5, A slotting wheel can be installed 3-4 pieces, you can use diamond slotting wheel, want to processing effect is good, choose resin slotting wheel.
6, Control electric box adopts rocker arm structure, convenient to control machinery.
7, Grinding straight edge and grinding wheel 45 degrees, are selected diamond grinding wheel, processing time is longer.
8. Water cover is used to protect brick motor, chamfering motor and edge grinding motor, so as to avoid sewage entering the motor during processing and prevent burning out the motor.
Ceramic tile bullnose polishing machine parameters:
| | | |
| --- | --- | --- |
| No. | Name | Parameter |
| 1 | Conveyor belt width | 300mm |
| 2 | Numbers of square head | 1pc |
| 3 | Square head motor | 3kw |
| 4 | Diameter of square wheel | Φ200*60mm |
| 5 | Numbers of slot head | 1pc |
| 6 | Slot head motor | 3kw |
| 7 | Diameter of slot disc | Φ150*30mm |
| 8 | Numbers of slots | 3-4pc |
| 9 | Numbers of 45 degree | 1pc |
| 10 | Motor power of 45 degree | 3kw |
| 11 | Diameter of 45 degree wheel | Φ200*600mm |
| 12 | Profile head | 1pc |
| 13 | Motor power of profile head | 3kw |
| 14 | Diameter of profile wheel | Φ180*25*R10mm |
| 15 | Numbers of polish head | 8pcs |
| 16 | Diameter of polish head | Φ95 (Y6)mm |
| 17 | Motor power of polish head | 1.5kw |
| 18 | Swing motor | 4kw |
| 19 | Conveyor motor | 2.2kw |
| 20 | Baffle motor | 0.75kw |
| 21 | Processing width | 70-1200mm |
| 22 | Polish speed | 1-5m/min |
| 23 | Processing thickness | 6-20mm |
| 24 | Total power | 24.95kw |
| 25 | Size of machine | 4510*2200*2130mm |
| 26 | Weight | 约3500kg |