YTMDY-800/5 heads Small Tile Bullnose Machine
Yongtao 5 heads Tile Bullnose Machine, is according to customer demand for customized a ceramic tile processing machine. The machine only have few heads, which let the machine smaller, simple and low cost. For ceramic tile edge grinding, chamfering, bullnose processing, it is suit for small tile processing company. At the end of tile bullnose machine, there are two profile head which adopt diamond profile wheel. It can profile the bullnose edge, but it is a rough effect not smoothly, so if need a smoothly effect on bullnose edgge, we suggest add one resin profile head more, the edge effect will be more better. If it still can't meet your demand, please contact us, we will give you a more appropriate customized scheme, increasing the number of profile heads for tile bullnse edges, improve the configuration of machinery, in order to meet your processing needs. This small ceramic tile process machine, especially suitable for small ceramic tile processing company, small mechanical design, simple operation, convenient maintenance, is a small quantity of processing ceramic tile customers best choice.
ceramic tile bullnose machine: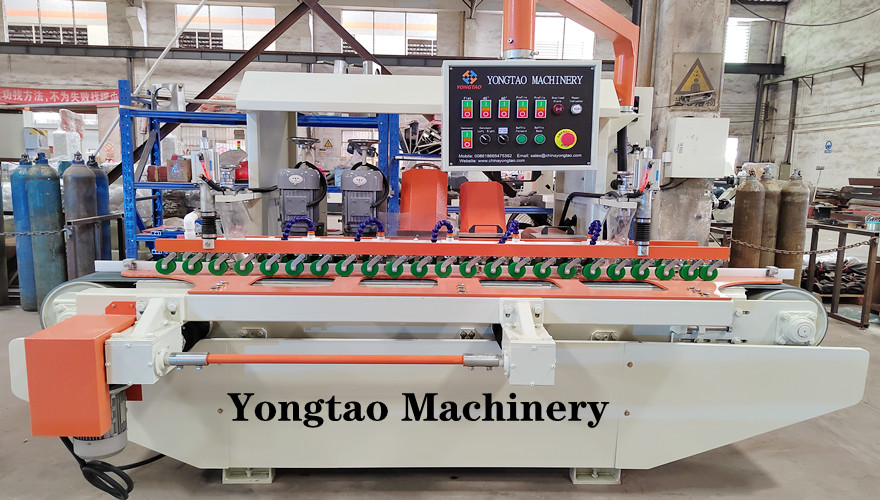 Yongtao machinery is China's largest manufacturer of ceramic tile processing machinery, has a professional mechanical engineering designer. If you want to order 1 set of special ceramic tile processing machine, or want 1 small ceramic tile round edge machine, you just need to contact us, tell us your needs, we will give you recommend a suitable ceramic processing machinery, immediately send us email now!
Processing materials: ceramic tile
Ceramic tile edge polishing machine function: edge grinding, chamfering, bullnose edge
tile bullnose machine features:
1, rocker arm type electric box structure, more convenient operation;
2, double row of pressure wheel structure, outside a row of pressure structure, processing large size ceramic tile is not easy to produce tilt, pressure is more stable, so that the plate will not go;
3, export tile machinery, all using English logo, electrical appliances using international common components, convenient for customers to buy;
4, the gauge adopts electric control, easy to adjust;
5, ceramic tile ox nose machine periphery using iron and spray paint treatment, more beautiful appearance, so that the sewage flowing down, sewage does not flow out;
6, edge grinding, chamfering wheel adopts diamond material, grinding pin strength is larger, processing time is longer;
7. Each edging and chamfering motor is protected by water cover to avoid sewage entering the motor;
8, 5 motors are manually adjusted in and out, convenient adjustment, better control;
9, the transmission belt adopts green hard belt, increase the adhesion of ceramic tile on the belt, so that the ceramic tile is not easy to move;
10.The latter two motors adopt arc shaped grinding wheels, the size of which is R10, with faster grinding speed and more durable diamond material.
Ceramic tile bullnose machine parameter:
| | | |
| --- | --- | --- |
| No | Name | Parameter |
| 1 | Squaring head | 1pc |
| 2 | Diameter of squaring wheel | Φ150X30mm |
| 3 | Motor power | 3kw |
| 4 | Chamfer head | 2pcs |
| 5 | Diameter of chamfer wheel | Φ150X30mm |
| 6 | Motor power | 3kw |
| 7 | Profile head | 2pcs |
| 8 | Diameter of profile wheel | Φ180X25mm (R10) |
| 9 | Motor power | 3kw |
| 10 | Conveyor belt | 300mm |
| 11 | Processing width | 80-800mm |
| 12 | Speed | 1-3m/min |
| 13 | Processing thickness | 10-20mm |
| 14 | Total power | 17.3kw |
| 15 | Size of machine | 3000mmX1500mmX1200mm |
| 16 | Weight | 1600kg |