YJ-3020-5L 5 Axis CNC Water jet Granite Cutter

Product name: YJ-3020-5L 5 Axis CNC Water jet Granite Cutter
Processing materials: stone, marble, granite, quartz stone, rock slab, artificial stone, ceramic tile, glass, metal, stainless steel, steel plate, alloy steel and other materials
Brand name: YONGTAO
Origin: Foshan, Guangdong, China

Characteristic of YJ-3020-5L 5 Axis CNC Water jet Granite Cutter
Yongtao 3020 5 axis CNC water jet cutting machine, is designed for large size slab cutting machine platform, often used for stone, marble, granite, quartz, rock slab, artificial stone, steel plates, ceramic tile etc. S axis water jet cutting head can be 0 to 10 degrees adjusted, controlled by computer through CAD drawing software. It can be cut to a variety of materials, any 2D curve, whether it is a processing of ceramic tile badge, or cut metal, 3020 5 axis CNC water jet cutting machine is a very practical cutting equipment. When the machine working, it need high pressure water and pomegranate sand through sand tube,and gem stone, let the high pressure water come out from a very small hole to cut the materials. The cutting table will be full of water, to buffer the high pressure water jet, to avoid high pressure water, garnet sand flying and hurt people. Due to water jet cutting machine is cooling cutting, with other cutting machine incomparable advantages, irreplaceable, 5 axis water jet cutting have the advantage of high precision, high efficiency, simple mechanical operation, convenient maintenance, good stability, is widely used in the industries of multiple cutting processing. The machine adopts gantry structure, both ends supported at the same time, to avoid the poor precision problems come when using for a long time, so choose Yongtao 5 axis CNC water jet cutting machine, with the trust, is the general customers are recognized brand.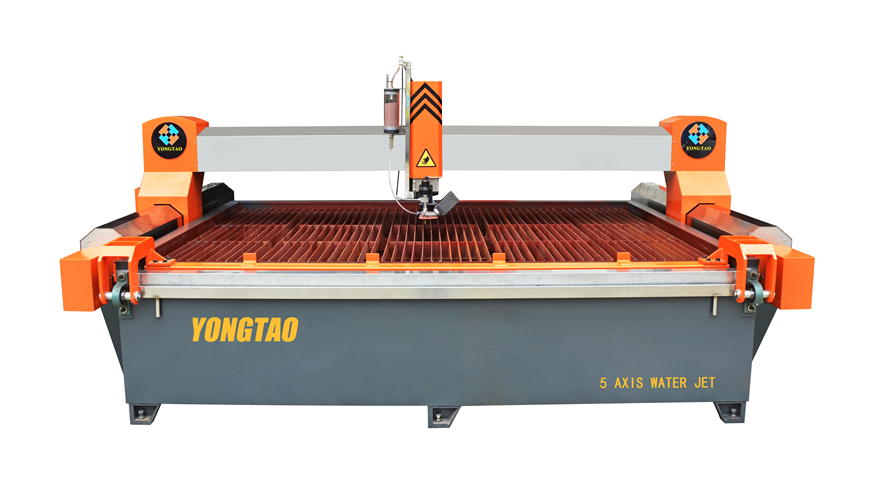 Advantages of AB 5 axis water jet cutting head: YJ-3020-5L 5 Axis CNC Water jet Granite Cutter
1. AB 5 axis water jet cutting design is adopted to realize the linkage of X, Y, Z, A and B.
2. All accessories are processed by imported high precision CNC machine tools to ensure the precision of processing.
3. Imported high-quality servo motor and servo driver are adopted to make the control accuracy higher
4. Reasonable design and uniform working force can effectively improve the service life and stability of water jet cutting.

The complete set of water jet cutting configurations includes:
1. water jet cutting machine
2. CNC water jet control system
3. abrasive supply system
4. water jet super high pressure supercharger
5. circulating cooling system
Package Size Parameters: YJ-3020-5L 5 Axis CNC Water jet Granite Cutter
Package size of water jet cutting table: 4.1m*3.2m*1.65m
Package size of water jet supercharger system: 1.3m*0.95m*1.25m
Packaging size of water jet sand supply system: 0.6m*0.6m*0.95m
Package size of CNC water jet control system: 0.65m*0.65m*1.67m

YJ-3020-5L 5 Axis CNC Water jet Granite Cutter Wearing Parts:
High pressure water cycle
Water switch seal ring
Water switch thimble
Water switch spherical valve pad
Valve core, valve pad, garnet sand
Machine Parameters of YJ-3020-5L 5 Axis CNC Water jet Granite Cutting Machine
Maximum cutting thickness of metal: 40mm
Maximum cutting thickness of ceramic tile, stone, glass, marble and granite: 50mm
Maximum cutting size: 3000mm*2000mm
Machining accuracy :±0.1mm
Gem nozzle diameter: 0.33mm
Nozzle size of sand pipe: 1.0mm
Maximum displacement: 3.7L/min
Maximum sand usage: 190g/min
Maximum stroke: 60 strokes /min
Hydraulic oil: no.46 or no.68 (Great Wall hydraulic oil)
Power supply :220V/380V/415V, 50/60hz
Computer drawing software: Auto CAD drawing software
Operating system: Windows XP
Z-axis travel: 130mm
Maximum pressure: 420Mpa
Working pressure: 300-380mpa
Main motor power: 30kw
Total power: 37kw

Parameter of YJ-3020-5L 5 Axis CNC Water jet Granite Cutting Machine
Model

YJ-3020-5L

Structure

Bridge

Cutting table size

3100x2100mm

Stroke

X-axis

3000mm

Y-axis

2000mm

Z-axis

130mm

CNC Controller

AC Servo System

Accuracy

Cutting

±0.1mm

Repeat ability

±0.05mm

Traverse speed

6000/15000 mm/min

Power source

380VAC, 50Hz, 3Phase