YSQZ-3200-4L four-axis stone bridge saw machine is a stone processing machine designed by Yongtao Machinery in combination with the characteristics of various materials. According to different materials, change the saw blade of different materials for cutting. All kinds of graphics just need to be dragged out in the CNC display screen, and then according to the size of the need to enlarge or reduce for cutting. When cutting a circle, the head can turn and cut. This way of cutting round, oval, cutting cost is low. The slab is put on the platform, and the camera above takes pictures. When the picture is input into the display screen, the cutting tool head can be automatically aligned for cutting, so as to avoid the phenomenon that the board is not straight and the two sides of the cut board will not be parallel. This function is much more convenient than the ordinary stone bridge saw, is your processing stone, marble, sintered stone a good helper cutting.
Four-axis marble cutting machine: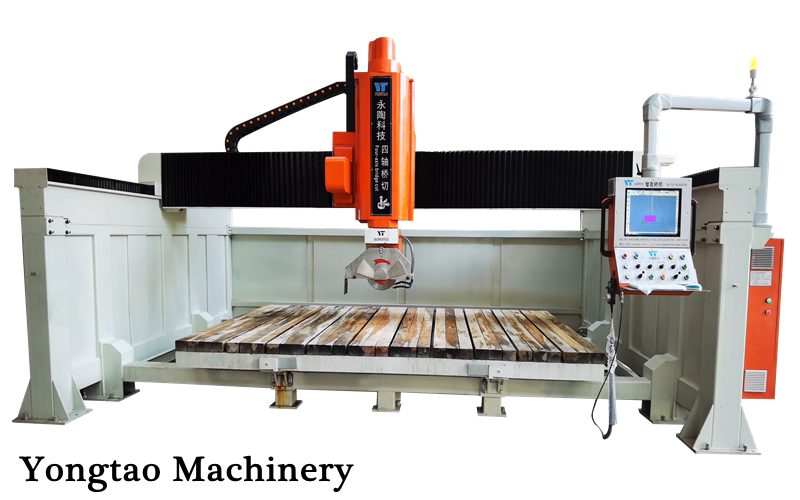 Cutting materials:
1, marble or stone 2, quartz stone 3, granite 4, sintered stone
Cut shape:
1, cutting circle 2, cutting diamond 3, cutting polygon 4, cutting ellipse 5, cutting arc 6, linear cutting 7, cutting table panel 8, a variety of specifications cutting 9, furnace plate cutting 10, cutting abnormity
Profiling function:
1, wave profiling 2, arc profiling 3, arc profiling 4, straight line 5, side profusion profiling
Four-axis stone cutting machine Software functions:
1. Include photo taking, intelligent typesetting and automatic sucker functions;
Features: efficient and convenient, save time and effort;
2. 3d copying function;
Features: various lines are generated directly in the software, simple and intuitive, without special programming;
Customer customization features:
Features: Various size plates can be customized according to customers' requirements, and the cutting of complex graphics can be realized by inputting simple parameters. There is no need to import CAD drawings, which is simple and convenient and greatly improves production efficiency.
Four-axis stone bridge saw machine features:
1, a multi-purpose machine, flexible four axis
2. Simple operation and accurate processing
3. Automatic measurement and intelligent import
4. Realize networking and remote control
5. Automatic chuck moving plate and avoiding saw marks
6. Photo typesetting and grain cutting as needed
7. Simple and intelligent, ready to learn and use
Four-axle marble bridge saw Parameter:
| | | |
| --- | --- | --- |
| No | Name | Parameter |
| 1 | X axis working stroke | 0-3000mm |
| 2 | Y axis working stroke | 0-2000mm |
| 3 | Z axis working stroke | 0-300mm |
| 4 | C axis working stroke | ±185angle |
| 5 | Cutting motor power | 15-18kw |
| 6 | Motor rotate speed | 0-3000rpm |
| 7 | Dia. Of blade | Ø300-450mm |
| 8 | Control system | Taiwan |
| 9 | Servo drive | Yaskawa |
| 10 | Rack rail | Taiwan |
| 11 | Sucker function | optional |
| 12 | Auto-adjusting tool function | optional |
| 13 | Photograph function | optional |
| 14 | Size of machine | 5.9m(X)*3.35m(Y)*3.38m(Z) |
| 15 | Total power | 26kw |
| 16 | weight | About 6000kg |