YSQZ-3200-3L 3 axis marble cutting machine
Yongtao YSQZ-3200-3L 3 axis marble cutting machine,using infrared preset cutting,microcomputer program control,hydraulic transmission technology, has the advantages of fast cutting speed,high precision,good consistency, especially suitable for large slab and high value slab cutting.This marble cutting machine is a integrated structure,it has the advantage of small volume,convenient transportation,easy to install and adjust,simple operation and other advantages,especially suitable for small workshops,movable processing place users.
The cutting head can be 90 degrees rotation, platforms vertical direction 0-85 degrees rotation.
X, Y, Z axis movement adopt the oil bubble type high precision linear guide with rack,so that the running and cutting processing are more precise and stable.The interface CNC operation screen,a key input,can automatically cut multi-size,multi-specification in one time.Simple to operate,cutting platform can up vertical at 0-85 degrees,convenient for loading large size slab.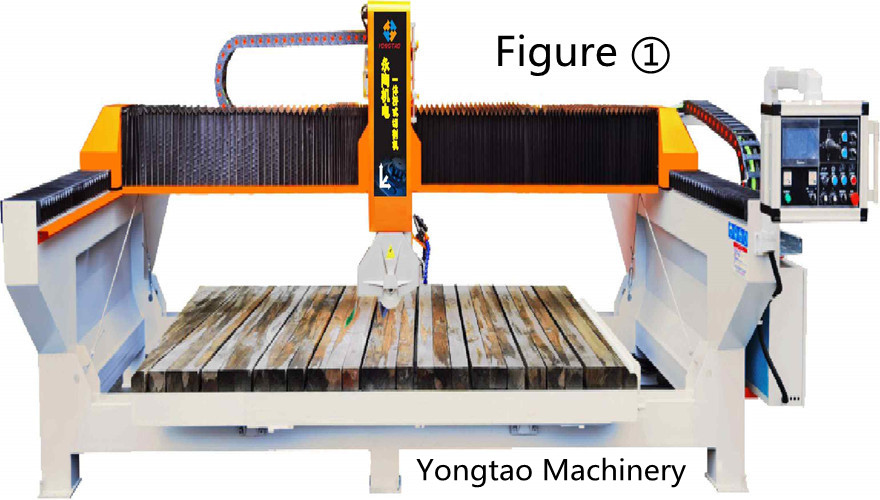 Processing materials:
marble, stone, granite
Features of granite cutting machine:
1, This marble cutting machine has one key multi-specification four blades continuous cutting function programming software, intuitive, fast and easy to learn.
2, the operating system is easy to use, using imported linear guide rail, high speed, stable, reliable.
3, reasonable for plate cutting, adjustable blade speed cutting, no damage to the stone surface, no chipping.
Optional stone cutting machine:
General style: Figure 1+ Figure 2
Standard: Figure 1+ Figure 2+ Figure 4
General section: Figure 1+ Figure 2+ Figure 3
High matching: Figure 1+ Figure 2+ Figure 3+ Figure 4
Marble bridge saw picture introduction:
Figure 1: Main type of stone cutting machine
Figure 2: Turning table function
Figure 3: 360 degree rotating table
Figure 4: Optional 45 degree chamfering
Figure 5: Distribution of wireless remote control adjustment blade
The parameter of stone bridge saw cutting machine:
| | | |
| --- | --- | --- |
| No. | Name | Parameter |
| 1 | Main motor power | 11kw |
| 2 | Size of blade | (Φ300-350)*50mm |
| 3 | Left & right move motor power | 2.2kw |
| 4 | Front & back move motor power | 1.5kw |
| 5 | Speed | 0.25-4.5m/min |
| 6 | Size of machine | 5300mm*3000mm*2300mm |
| 7 | Cutting head angle | 0-90degree |
| 8 | Stop position | Any place |
| 9 | Rotation speed | 2800-4500r/min |
| 10 | Processing size | 3200*2000mm |
| 11 | Total power | 15kw |
| 12 | Weight | 约4000kg |