Dual Spindle Wet Tile Cutter
Yongtao double-spindle wet tile cutter is a model used for long-term continuous strip cutting of tiles and stones. It is mainly used for the strip production of tile slabs, and the cutting specifications can be adjusted according to the number of blades installed by the user and the thickness of the spindle jacket. This model can be used for slotting tiles, and can be equipped with a special platen for cutting tile mosaics. The 800 continuous cutting machine adopts a cantilever structure, the inner layer of the spindle box is lubricated with oil, and the outer layer is equipped with a water cooling system. The machine has high processing precision, high cutting efficiency and flat cutting surface, which can realize a large amount of output.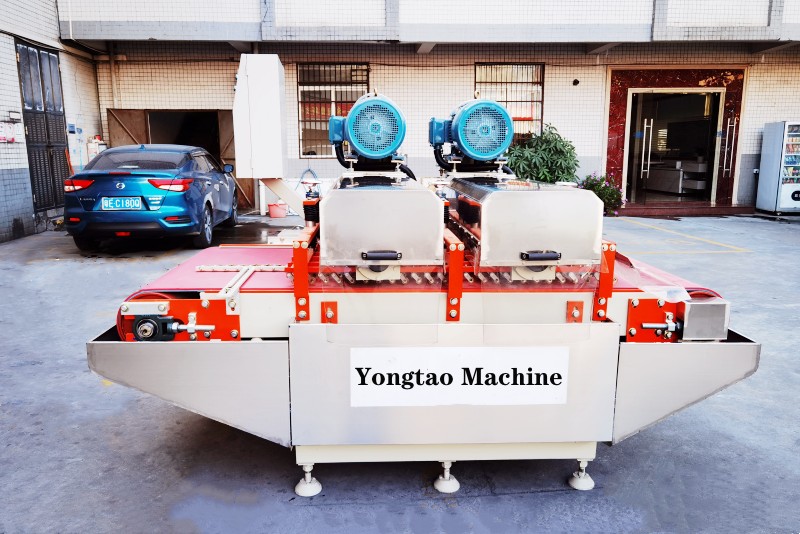 Yongtao double-spindle wet tile cutter is widely used in the foot line factory, mainly for 600 or 800 bricks for one cutting two, one cutting three, one cutting four, one cutting five, one cutting six, one cutting seven, one cutting eight, One-to-nine cutting can also be used for flat and flat V-grooves.

The machine has the following performance and mechanical features:
performance:
1. The cutting head spindle has high precision, the spindle box is lubricated with oil, and the spindle bearing adopts Japanese original NSK oil-immersed bearings, which do not heat up and are durable for a long time.
2. Adopt 16-groove multi-groove belt to ensure precise transmission and reduce vibration.
3. Both sides of the conveyor belt are ground and smoothed to ensure a straight line for cutting bricks and improve cutting efficiency and processing effect.
4. No vibration when the spindle is used at the same time, the cutting speed is fast and will not cause damage.
5. The dovetail groove lifting design is adopted, the movement is more stable and the vibration is smaller.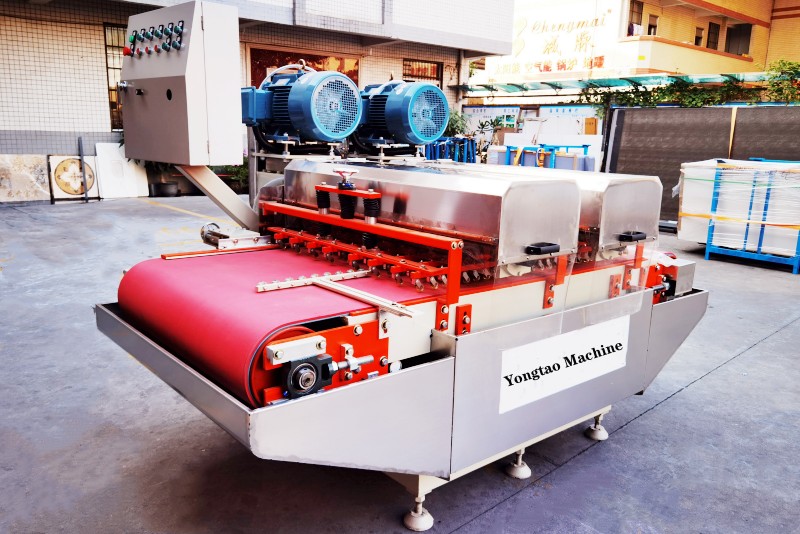 Mechanical Features:

1. A manual fine-tuning device is added to the operation surface, which makes the operation more convenient.
2. The front and rear of the main shaft adopt double sets of imported bearing support shafts to improve the running accuracy of the main shaft.
3. The reliable and stable cantilever structure is adopted, the whole machine runs stably and the failure rate is low.
4. The square axle box bearing adopts a water cooling device, which can be used continuously for a long time without heating and prolongs the service life of the bearing.
Yongtao double-spindle wet tile cutter is suitable for cutting large-scale wall and floor tiles into required strip bricks, square bricks, diamond-shaped bricks, etc., and the processing size range is 25-600 (800) mm. It can cut bricks of different widths in one go, or pre-cut before severing, increasing yield and reducing breakage.