YTMDP-1200/2+2+10 Ceramic Tile Bevel Edge Polishing Machine
The ceramic tile bevel edge polishing machine, is yongtao machinery for the demand of global customer, research and development production of a machine to polish ceramic tile bevel edge. This machine is specialized to square and chamfer ceramic tile edge, which has the advantage of simple operation, high speed, running stable. It is a professional equipment for processing 45 degree edge of ceramic tile. It can fast polish a single specification ceramic tile, which can large output. It is especially suitable for processing bevel edge customers.
Tile 45 degree chamfering machine: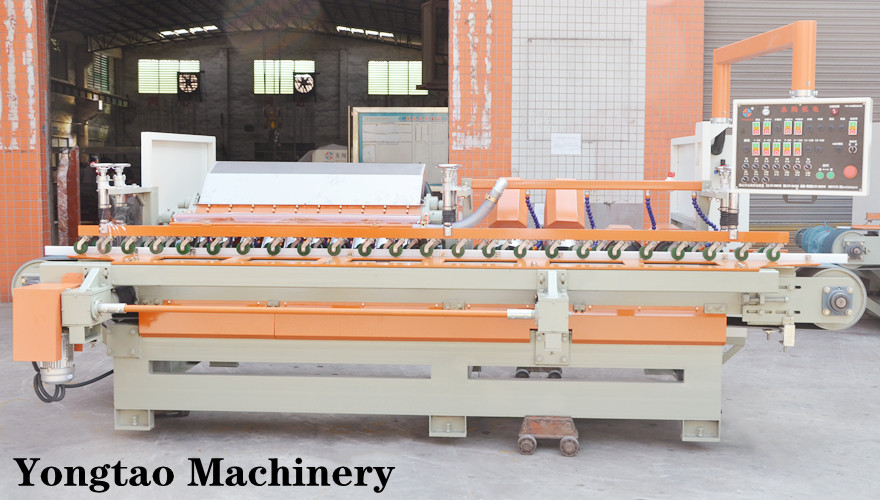 The characteristic of YTMDP-1200/2+2+10 Ceramic Tile Bevel Edge Polishing Machine
1.The control box can be easily movement, convenient for operation
2.The press wheel use PU material, which has a long service life
3.The maximum processing width is 1200mm, which can be processed directly without loosening the baffle screw.
4.The machine has 2 grinding edges, 2 45-degree bevels, 10 large grinding heads for polishing.
5.Speed adjustment by frequency conversion, processing speed stability.
6.Stainless steel water cover is used for polishing to prevent sewage from entering the motor and burning the motor.
7.The 45 degree bevel edge is set as a fixed structure, so only the depth of the grinding pin can be adjusted.
8.The use of two supporting brick structure, in the processing of large size, to avoid the phenomenon of tile tilt, processing is not standard.
9.Each motor and cylinder has an independent control button, which makes the operation very simple and convenient.
The parameter of YTMDP-1200/2+2+10 Ceramic Tile Bevel Edge Polishing Machine
| | | |
| --- | --- | --- |
| No. | Name | Parameter |
| 1 | Conveyor belt | 300mm |
| 2 | Numbers of polishing head | 10pcs |
| 3 | Diameter of polishing head | 125mm(Y3) |
| 4 | Chamfer head | 2pcs |
| 5 | Diameter of chamfer head | 200mm |
| 6 | Squaring head | 2pcs |
| 7 | Diameter of squaring head | 200mm |
| 8 | Motor power of chamfer head | 3kw |
| 9 | Speed adjust method | Frequency conversion |
| 10 | Processing width | 100-80mm |
| 11 | Polishing speed | 3-9m/min |
| 12 | Processing thickness | 6-20mm |
| 13 | Total power | 22.45kw |
| 14 | Electric consumption | 22kw/h |
| 15 | Air consumption | 50L/min |
| 16 | Water consumption | 490L/min |
| 17 | Size of machine | 4300*2200*2000mm |
| 18 | Weight | About 3500kg |