Description of YSXP-150 8 Head Stone Molding Polishing Machine
YSXP-150 8 Head Stone Molding Polishing Machine is the latest machine by YONGTAO machinery, which can fast replace the profile and polish wheel for stone straight line profiling. The spindle of machine use 30mm diameter, max processing width 150mm. The spindle can be installed to the inner of motor spindle and clamped by air pressure. The whole process of wheel replace can be done within 2 minutes, fast and easy. This machine is suitable for many kinds of shape profile requirement but few quantity of each shape.
Marble Moulding Polishing Machine: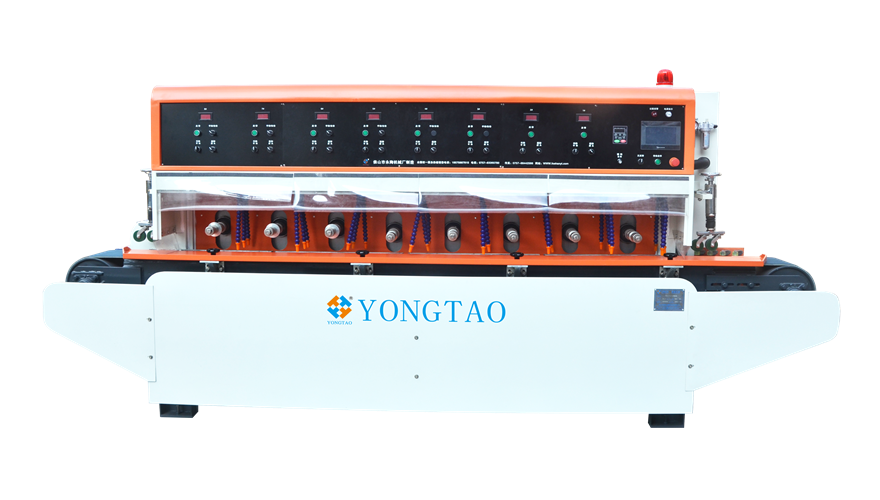 The capacity of machine is about 18~30 meter per hour. The profile wheel adopts planting diamond material, and polishing wheel use resin or sponge material. The polishing head adopts automatic compensation method, when the wheels wearing, the motor will automatic down corresponding. In this way, the machine can avoid omission polishing and at the same time full use of the wheel to save the cost. This stone straight line profiling polishing machine is the latest product by Yongtao machinery, it is a fully automatic stone polishing machine according to customer demand for research and development production, has the advantage of simple operation, good processing effect, fast speed, good mechanical stability, simple maintenance and so on.
Description of YSXP-150 8 Head Stone Molding Polishing Machine

| | | |
| --- | --- | --- |
| No. | Name | Parameter |
| 1 | Profile wheels | 3pcs |
| 2 | Motor power of profile wheel | 7.5kw |
| 3 | Polish wheel | 5pcs |
| 4 | Motor power of polish wheel | 5.5kw |
| 5 | Diameter of wheel | Ø150*30mm |
| 6 | Processing width | 50-150mm |
| 7 | Processing speed | 0.3-1.5m |
| 8 | Processing thickness | 10-60mm |
| 8 | Method of baffle control | By manual |
| 9 | Water inlet diameter | 50mm |
| 10 | Total power | 54.06kw |
| 11 | Size of machine | 4.1m*1.3m*2.0m |
| 12 | Weight | About 3500kg |