How does ceramic processing machine satisfy our market demand better? And how can we understand it better?
Contemporary ceramic processing plants mainly use two kinds of equipment: arc polishing machine and ceramic polishing machine. The traditional ceramic tile processing machines can be a choice, but strictly speaking, they are not particularly good. In recent years, there appear more advanced machines called arc line polishing machine, which has the following functions: edge rounding, slotting, trimming, lining, L grooving, chamfering, polishing and other functions. With the improvement of people's life quality, people is paying more and more emphasis on decoration, and there are appearing more and more ceramic processing equipment manufacturers. Now there are mainly two kinds of ceramic tile processing machines: arc polishing machine and ceramic tile cutting machine, which are the most commonly used two kinds of equipment.
Stone arc polishing machine, back water arc polishing machine, stone polishing machine, stone edging machine, quartz stone polishing machine, quartz stone chamfering machine, quartz stone back water

Ceramic tile bullnose machine: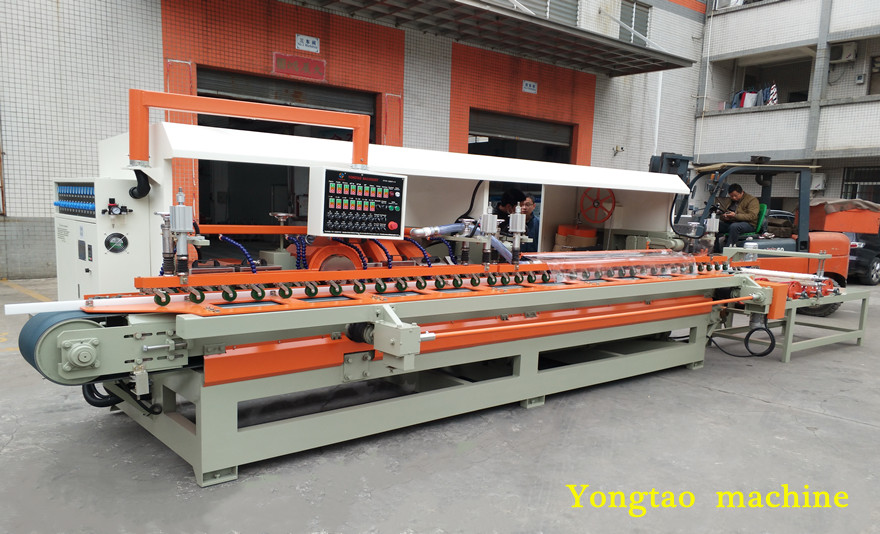 Stone edge straightening polishing machine is a new generation of products, which is the edge straightening polishing equipment of quartz, marble, granite, artificial stone and other products. The machine has the advantages of reasonable design, simple structure, advanced performance, convenient operation and easy maintenance. Edge Straightening and polishing can be completed at one time, which greatly improves productivity and brings you good economic benefits.
(Stone line polishing machine is a new generation of product, which is a combination of stone, artificial stone and ceramic line polishing equipment, consisting of rough grinding (shaping) and polishing. The product has exquisite structure and stable operation. The shaping adopts the method of deep grinding with the shaping wheel(different curves, depending on the requirements).The polishing adopts automatic control to set the feed rate for automatic compensation, so as to prevent damage caused by impact during feeding. It greatly improves productivity and brings you good economic benefits.)