As an important part of building decoration materials, ceramic tiles are of great importance to the overall decorative effect. In order to meet the diverse needs of customers for tile chamfering and polishing, Yongtao Machinery has launched a 10-head tile 45-degree edge polishing machine specially customized for customers. This machine has high-efficiency processing capacity, flexible adjustment function and superior polishing effect, providing customers with perfect ceramic tile processing solutions.
1. Customized design to meet various needs
Yongtao 10-head ceramic tile 45-degree edge polisher is a tile chamfering machine customized for customers. It is equipped with 2 straight-edge heads, 2 chamfering heads, and 10 polishing heads, which can complete multiple processes at the same time, greatly improving processing efficiency. The maximum processing width of the mechanical design can reach 800mm, and the minimum processing width is only 80mm, which is suitable for tiles of various specifications.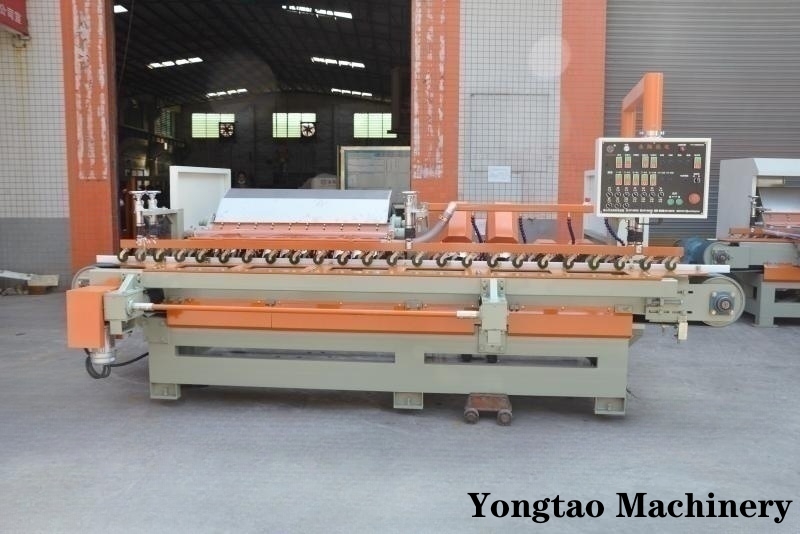 2. Flexible adjustment and precise processing
The 45-degree chamfering head can manually adjust the grinding pin depth of tiles, which provides flexibility and precision for chamfering with different needs. The polishing head adopts cylinder structure, which makes the polishing effect more excellent. The cylinder pressing mechanism is optional, which realizes fast lifting and improves the operation efficiency.
3. Frequency conversion speed regulation to optimize the processing effect
The processing speed adopts frequency conversion speed regulation, and customers can flexibly adjust the operating speed of the machine according to the processing effect to ensure the best balance between tile processing quality and production efficiency. This makes Yongtao 10-head tile 45-degree edge polishing machine adaptable to different types of tiles and processing requirements, providing higher processing customization.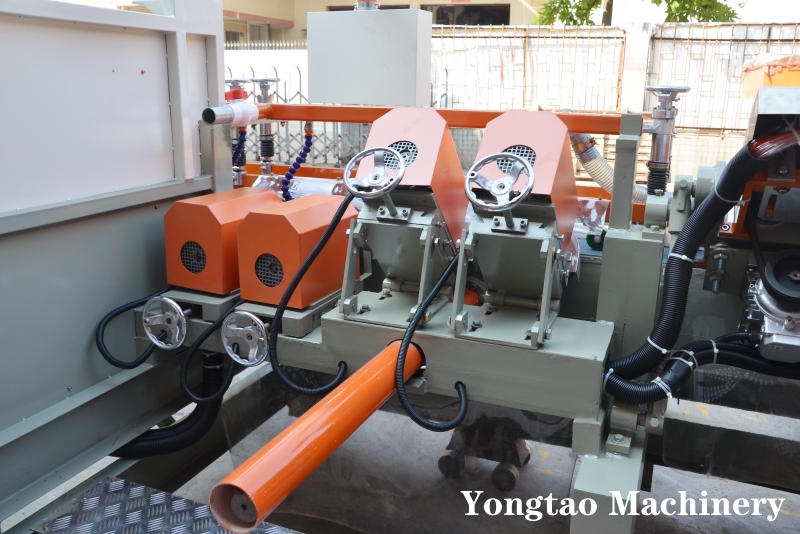 4. Rocker electric cabinet, easy to move and operate
The design of the mechanical rocker arm electric cabinet takes into account the convenience of operation, which can be easily moved, allowing the operator to check and adjust the operating status of the machine at any time, improving work efficiency and safety.
5. Open structure, easy to maintain and adjust
The back of the machine adopts an open structure design, which makes maintenance and adjustment more convenient. Operators can easily adjust machinery, reducing downtime and increasing productivity.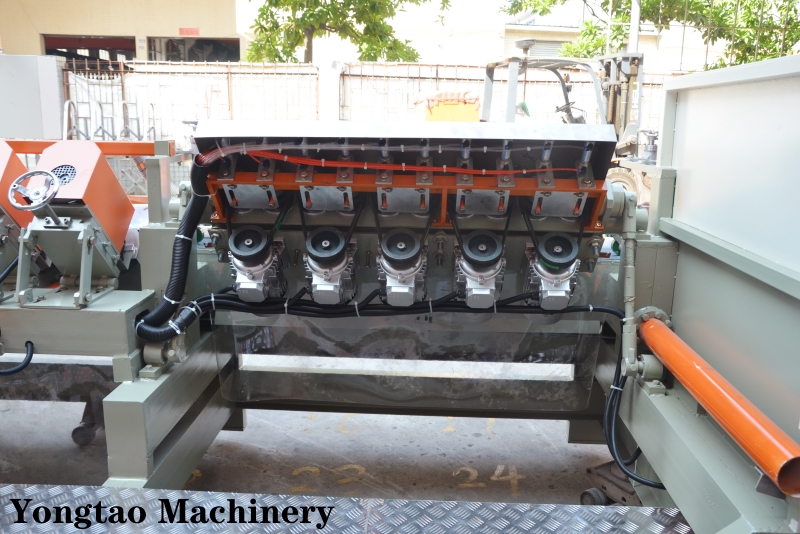 6. Technological innovation to improve processing quality
Yongtao Machinery has been committed to technological innovation, and continuously improves the processing quality and performance of products. In the field of ceramic tile processing, precise chamfering and polishing processes are crucial to the appearance of the final product. By adopting high-precision chamfering head and cylinder structure polishing head, Yongtao 10-head ceramic tile 45-degree edge polisher can achieve a more delicate processing effect, so that the surface of the tile presents a smooth and bright texture, which improves the added value of the product and competitiveness.
7. Quality assurance, reliable and stable
As a reputable manufacturer, Yongtao Machinery strictly follows international quality management standards to ensure reliable and stable product quality. In the production process, high-quality raw materials and advanced processing technology are used, and each machine has undergone strict quality inspection and debugging to ensure its perfect performance and meet the highest standards. The products of Yongtao Machinery are exported to all over the world, and have won unanimous praise and trust from many customers.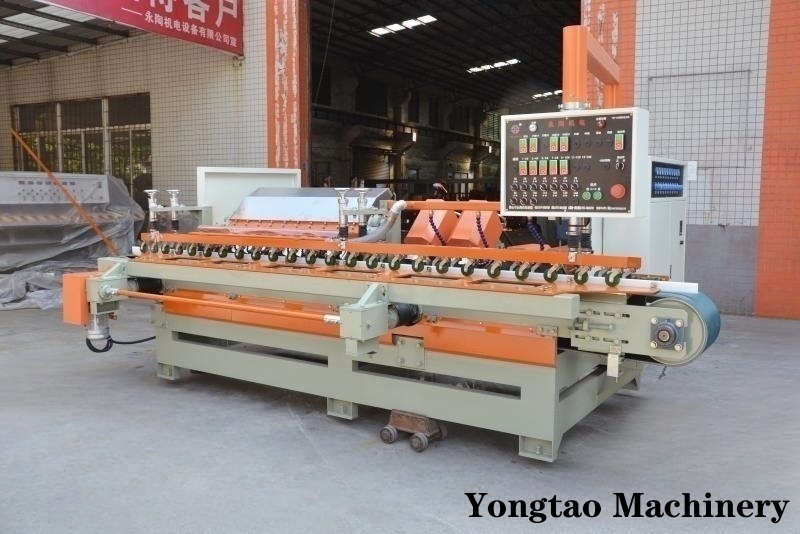 8. Full service to meet customer needs
Yongtao Machinery not only provides high-performance tile processing equipment, but also provides a full range of pre-sales consultation and after-sales service. Customers can customize tile processing solutions suitable for their own production lines according to their own needs. The professional team of Yongtao Machinery will provide customized technical support and training services according to the actual situation of customers to help customers better master mechanical operation skills and improve production efficiency and product quality.
As a well-known manufacturer and supplier of ceramic tile processing machinery in China, Yongtao Machinery has continuously launched high-performance and high-efficiency tile processing equipment with its professional R&D team and rich experience to provide customers with high-quality solutions. The launch of Yongtao's 10-head tile 45-degree edge polishing machine will further meet customers' pursuit of tile processing quality and customization needs, making its products widely used around the world. Whether it is a small-scale tile processing workshop or a large-scale production line, this machine will become a powerful assistant for processing technology, bringing more beautiful and high-quality tile products to the building decoration industry.